Join us for a magical adventure under the sea with our NEW Mermaid Collection!

Sitting, swimming, and serenading the masses, mermaids have long been a fixture of fascination and lore.
We here at Latched Mama are all about celebrating the fantastical, which is why we are SO excited to launch this enchanting new print in FIVE different breastfeeding and maternity friendly styles so you can pick the perfect fit for you!
From dresses to tees, rompers, and more- we have the perfect look for every mermaid-loving mama and babe. Need some help deciding which style best suits your needs? Keep scrolling to learn more!
This exclusive collection will launch at 12:15 PM EDT Thursday, August 25th!!
Can't get enough?? Make sure you check out our Latched Mama Love Facebook Group and join us on Facebook Live at noon EDT Thursday August 25th for exclusive sneak peeks, including some coordinating clothes for the littlest mermaids in your life!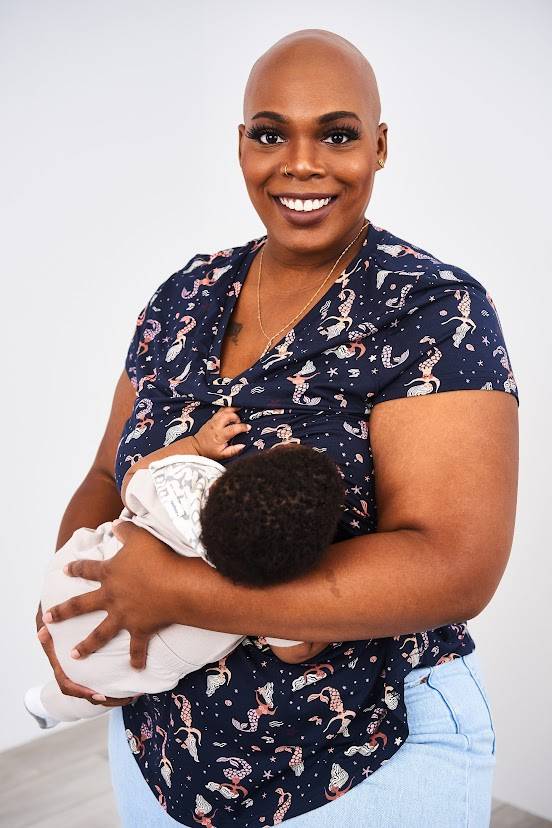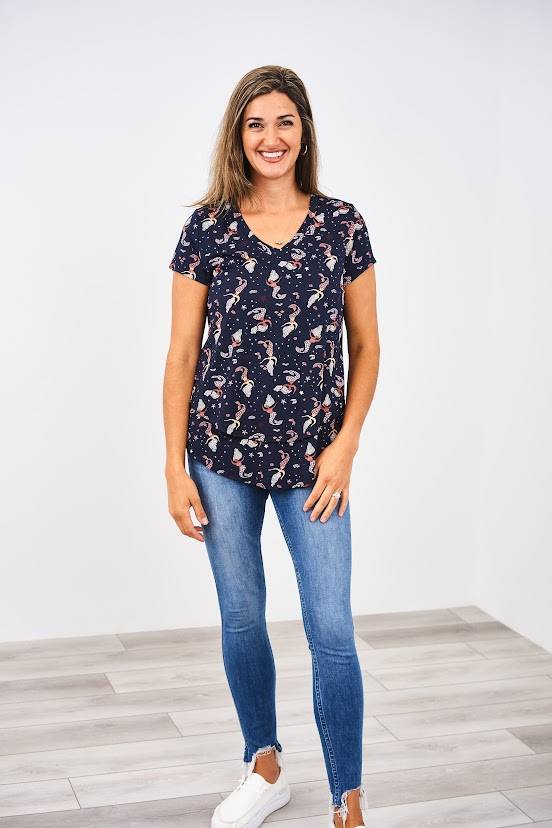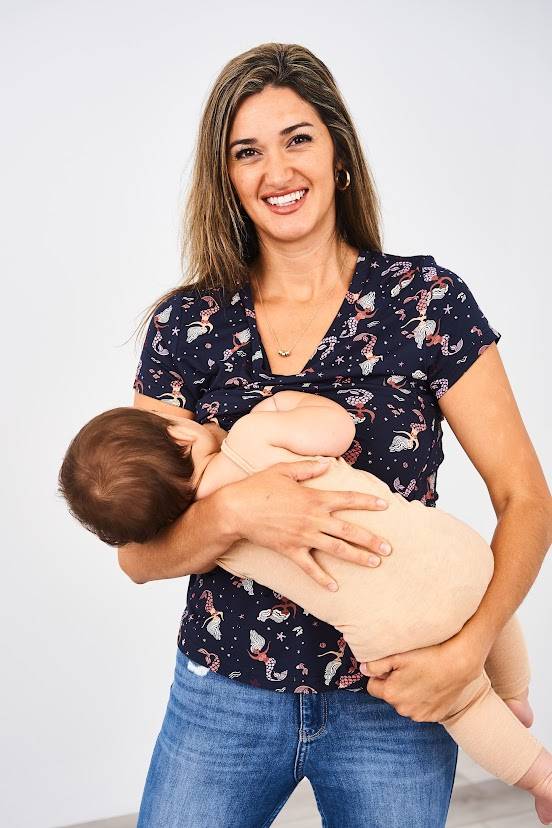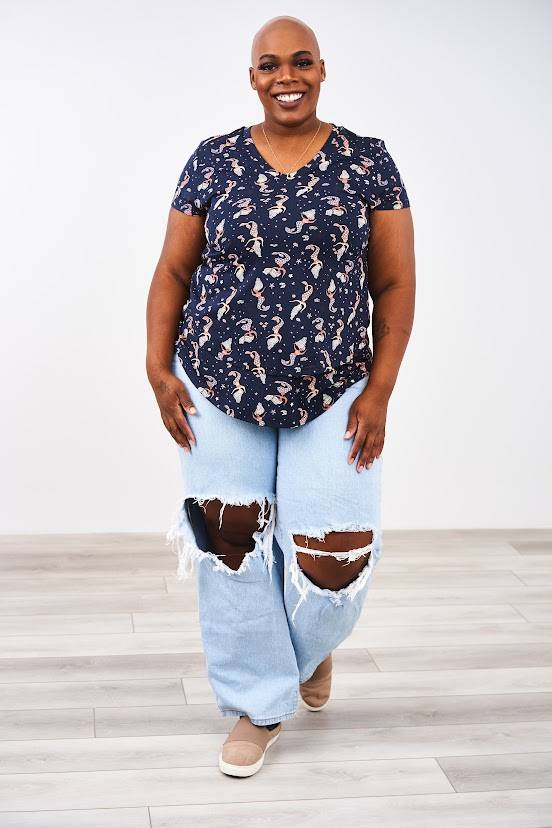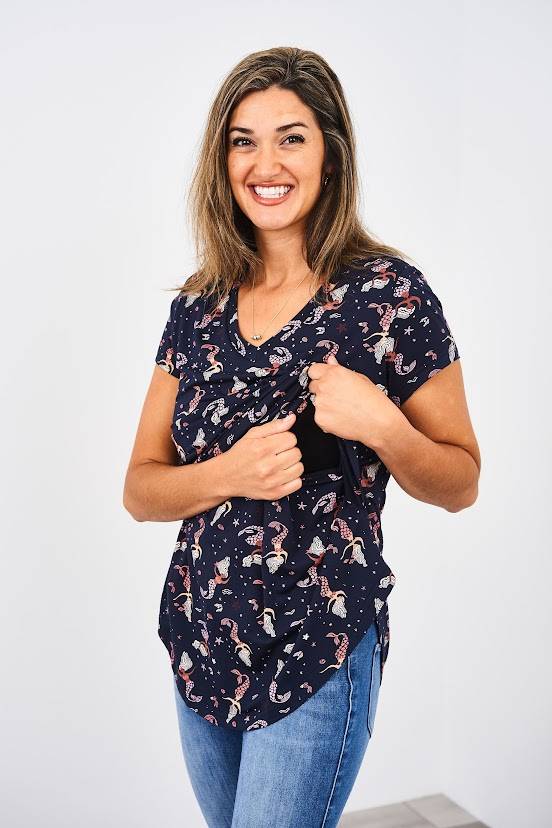 If you're looking for the perfect introductory piece into the wonderful world of nursing wear, then look no further than our tried and true Printed Nursing Boyfriend Tee.
This not-so-basic tee was designed to help make mom life a little simpler and a lot more stylish!
Nursing, pumping, and even maternity friendly, you'll love the way this ultra-soft tee flatters your figure, thanks to its fitted shoulders and forgiving, no-cling tummy area. Its ingenious, lift-up, layered nursing allows you to breastfeed on the go without exposing your belly.
Plus, its breathable fabric makes it much more comfortable and convenient when compared to the "two shirt method."
"This is the best tshirt for nursing. I'm used to having to throw a nursing cover on & I get hot, my baby gets hot, it's just a whole hot mess, especially in this Georgia heat! But with this shirt, I'm able to comfortably nurse in public, still discreetly. The relief on my husband's face was priceless when our baby got hungry at a restaurant & I didn't need to throw a whole tent up to feed her & still not show anything (my rolls can stay hidden lol), & bonus points because he couldn't even tell it was a nursing shirt. So convenient & so discreet. I'm in love." -Chyenne 💕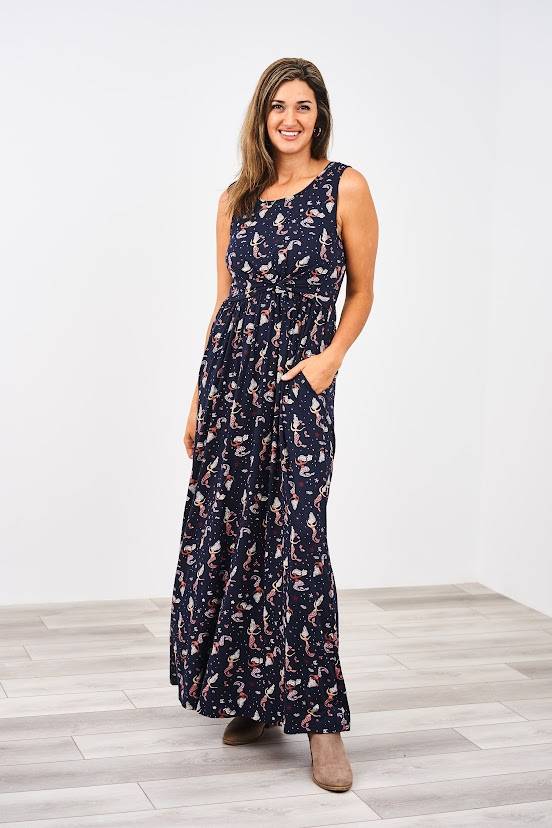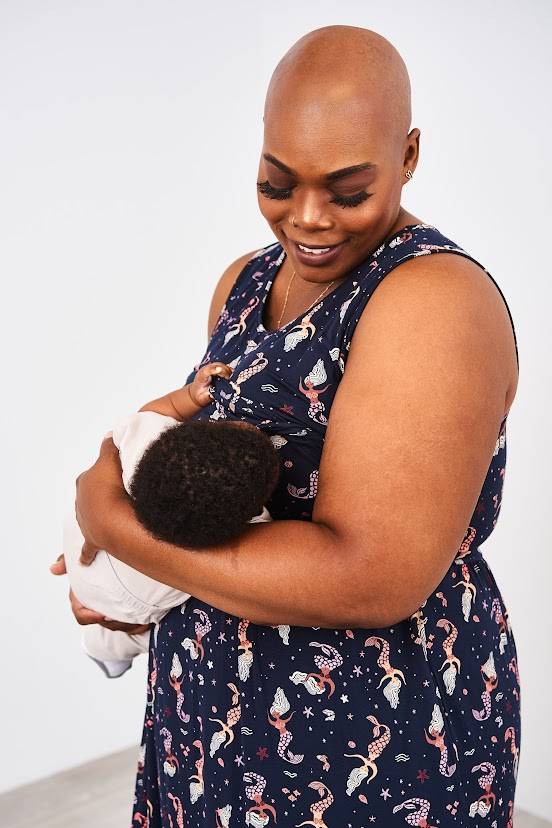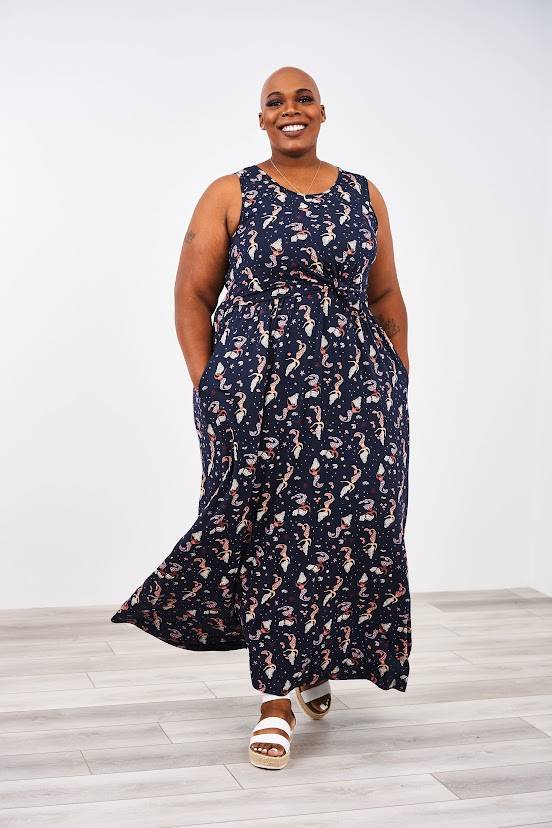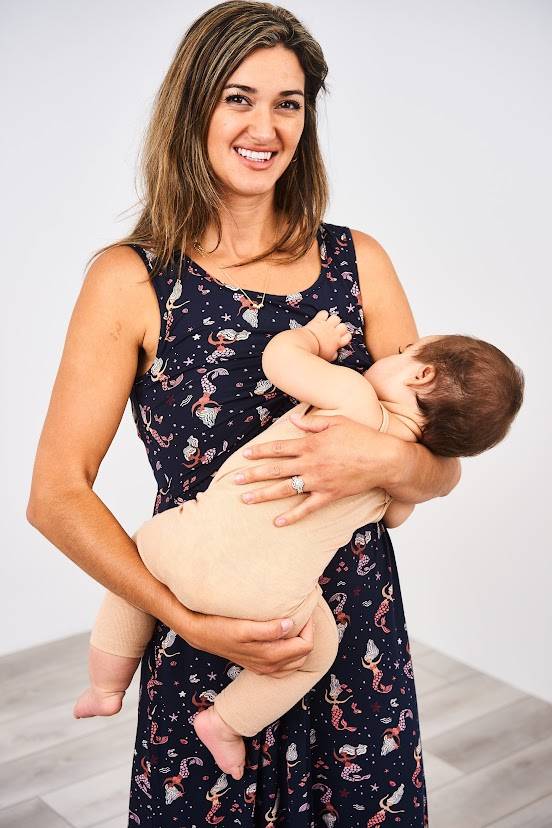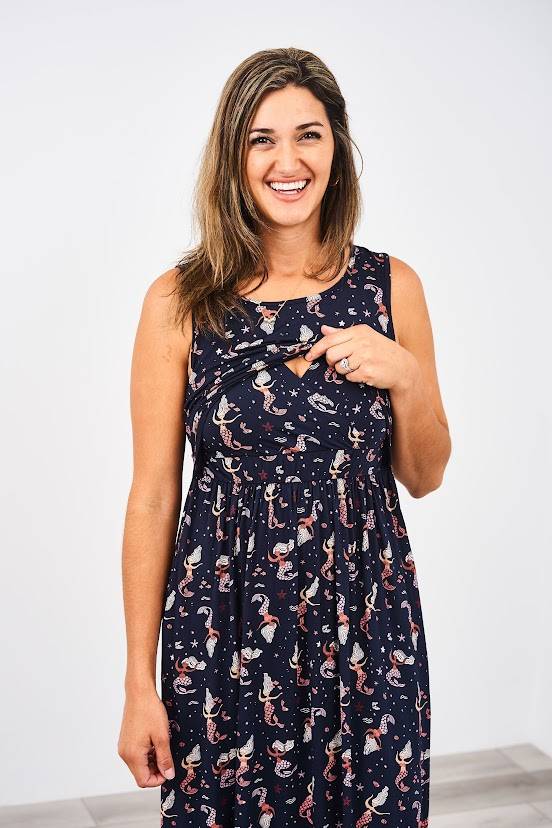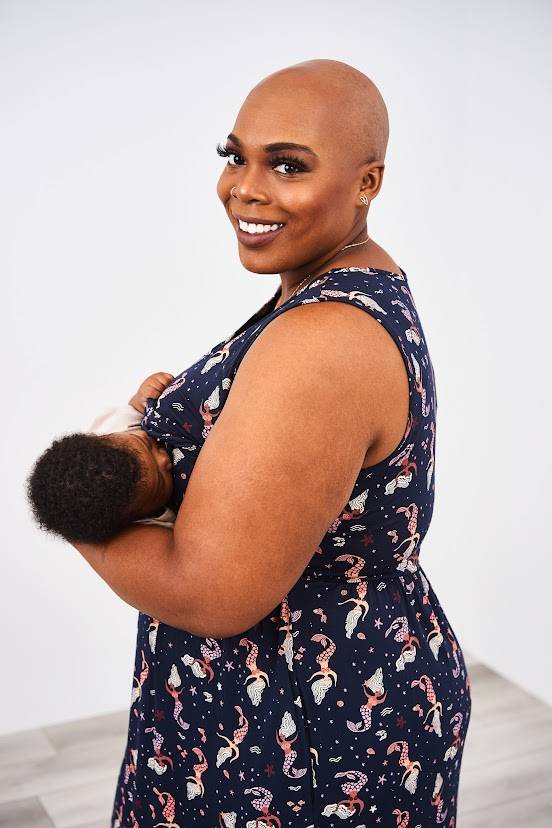 Love the look of a floor-length dress but need something that can keep up with your lifestyle?
Well, we're here to tell you that when it comes to building a fashionable and breastfeeding-friendly wardrobe, you CAN have it all!
Designed for the stylish mama who will never turn down the opportunity to rock a dress, our Boardwalk Nursing Maxi is beloved for its ability to be dressed up or down. Plus, thanks to its easy, lift-up nursing access, you can finally ditch the cover and breastfeed in confidence.
Best of all? Because there is no cinching around the waist, this dress also doubles as a gorgeous maternity gown that can grow with you and continue to evolve alongside you on your motherhood journey.
"I am 7 months postpartum and also have two toddlers so I was looking for cute, nursing friendly, toddler mom friendly, hide my mommy pouch dresses. This one is perfect! Maxis are so comfy and modest and the nursing access is so handy but also discreet so you wouldn't assume it's a nursing dress. I got the tawny tea rose print and it's lovely- easily paired with a denim jacket for cooler weather or worn alone for warmer weather. I can see myself wearing it even when I'm done nursing and I wish I had splurged during pregnancy! It is very long- I'm 5'4" and need to wear heels for it to be the right length but it doesn't bother me having it a little extra long. Definitely buy this dress!" -Becky💕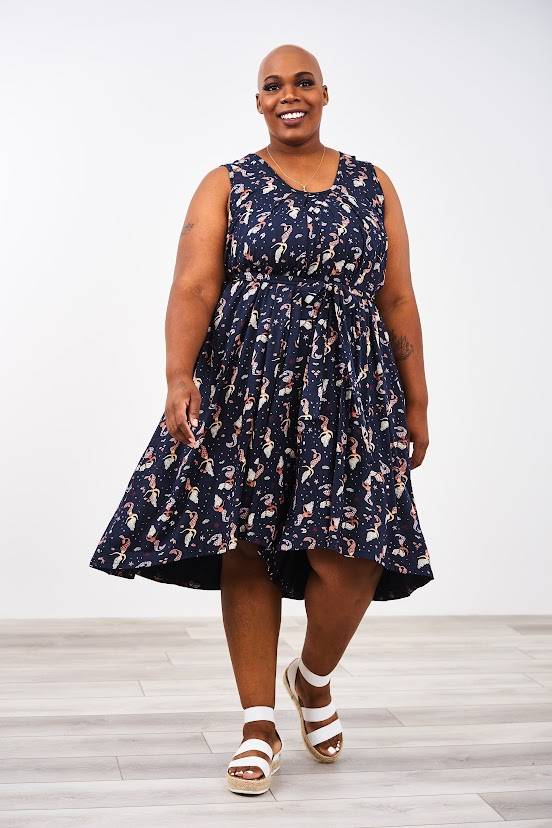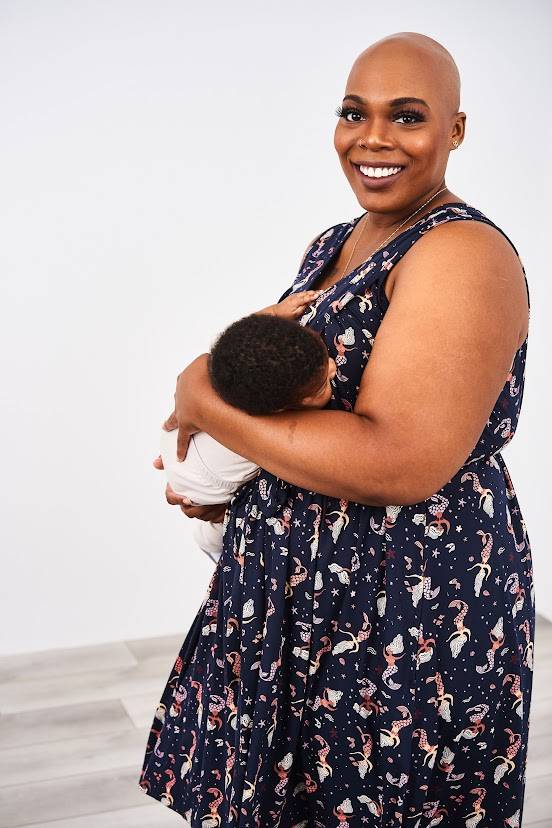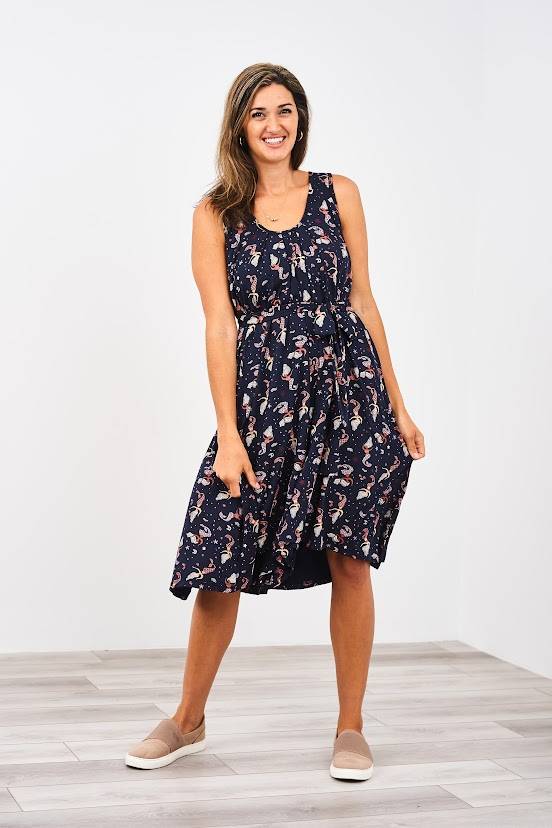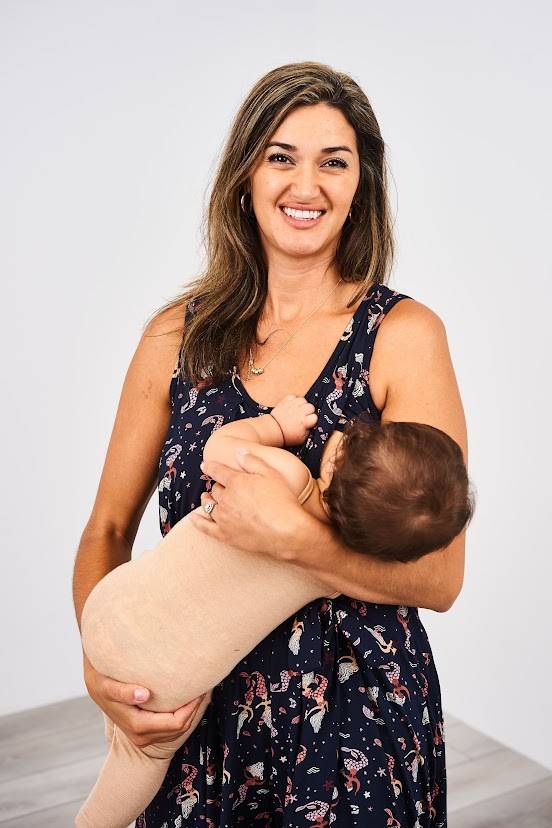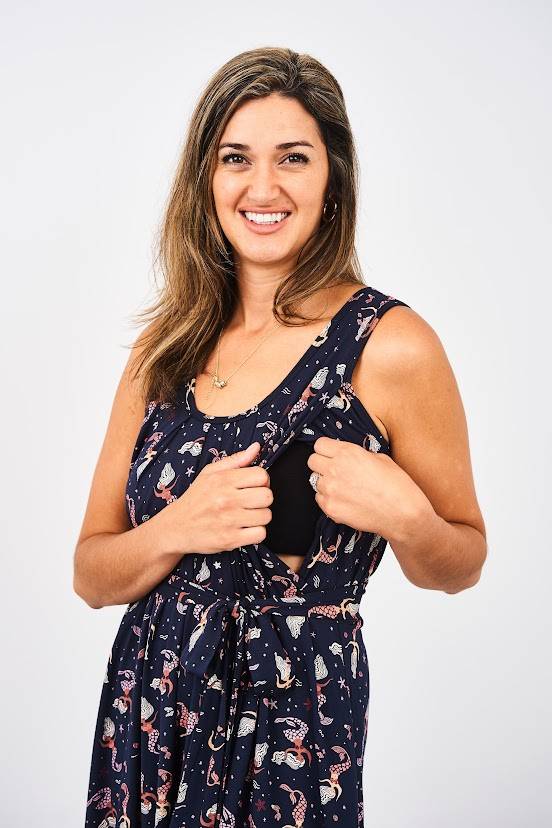 As one of our most well know and highly sought-after styles, our Printed Nursing Romper is truly the one piece that can do it all!
This fan-favorite romper features a simple side-access nursing panel that is perfect for everything from pumping to tandem nursing.
And because this romper was designed to accommodate every season of motherhood, its ingenious drop-crotch design allows it to do everything from comfortably fitting a growing bump to flattering a postpartum body and help simplify breastfeeding on the go!
Need to use the restroom? No problem! Simply step both legs into a single pant leg and pull up for a fuss-free bathroom break.
Oh- and did we mention it even has pockets? As a busy mama, we know you already have a lot on your plate, so we designed our flagship style to be everything you need, all in one cute package!
"Sooo.. here I am 4 kids in, swearing up and down I would never buy, wear or own rompers. You see how well that worked for me, right?! I bought 2 by mistake at first last year. A forest green and burgundy with light pink floral pattern. Don't judge me! Mom-pregnancy brain is a real thing! When you order things by mistake at 3am from your favorite maternity & nursing clothing store, you just get mad at yourself. Cry a little into your coffee. Think how you are going to pee in these. But then it comes, you open your mail.. the smooth fabric against your skin... This is how they get you. These light-weight fabrics with beautiful prints for pregnancy-postpartum-nursing. Great for summer or throw a cardigan over in the spring & fall. I have even wore them in the winter with leggings and taller boots. No one knew it was a romper! Now this time, I bought the starry night romper. I am so excited to pair it with my galaxy print chuck taylors for a casual look and feel. Or slightly....maybe it is taking me back to my edgy days, maybe?! They all have a lovely accent belt to give shape and are holding up to my normal daily routines. Don't let my ramblings deter you from buying one...or three of these rompers. They are worth it!" -Danielle💕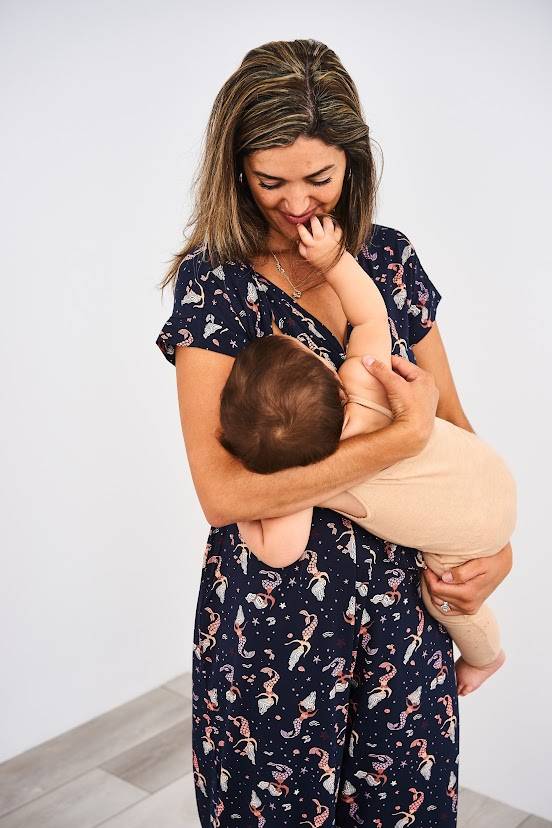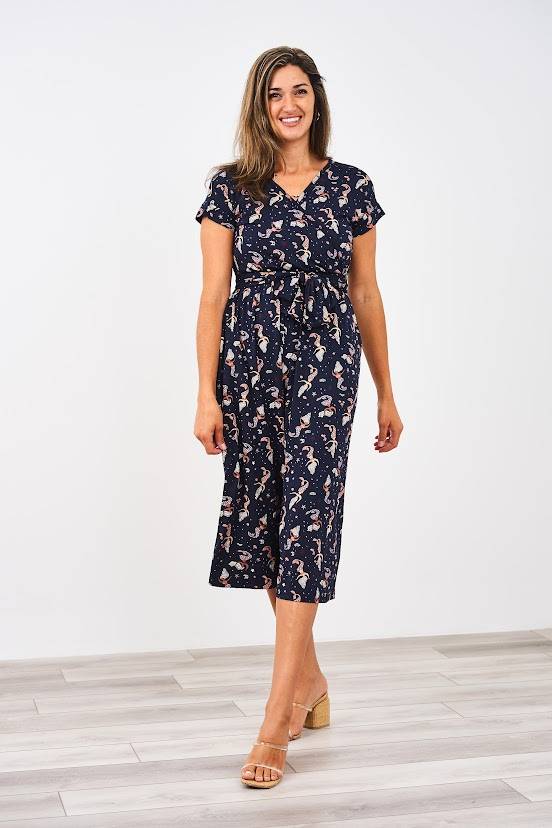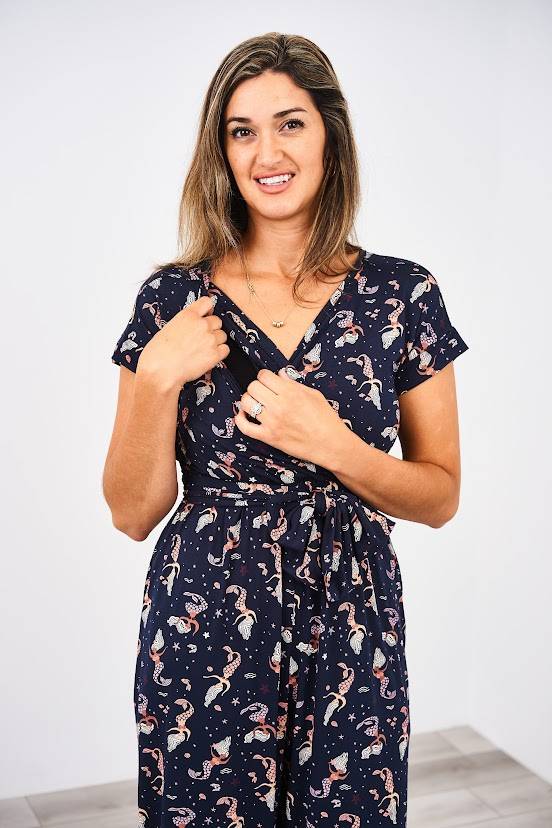 Love the look of a dress but need something a little more practical?
Or perhaps you're headed back to the office and need something that's both chic and pumping-friendly?
Then our V-Neck Nursing Jumpsuit is sure to become a staple in your nursing wardrobe!
This stylish jumpsuit features a discreet v-neck nursing access that is perfect for latching or pumping your liquid gold on the go.
Plus, thanks to its trendy cropped length, spacious pockets, and attached belt, this breastfeeding-friendly jumpsuit is the perfect one-and-done outfit to help you take on your day!
"This is not only my first Latched Mama purchase but my first jumpsuit too and I LOVE IT! It's so flattering on my 4 month postpartum body, v-neck sits perfectly- not too low, waist bow tie covers postpartum weight, loose through hips, butt, and thighs, and material is so soft and stretchy. Fitted top and then giving in all the right places. I got the Sangria Tie Die and it's this beautiful plum color, not bright pink like the photo (which I'm glad for). I will be buying in other colors!" -Sara💕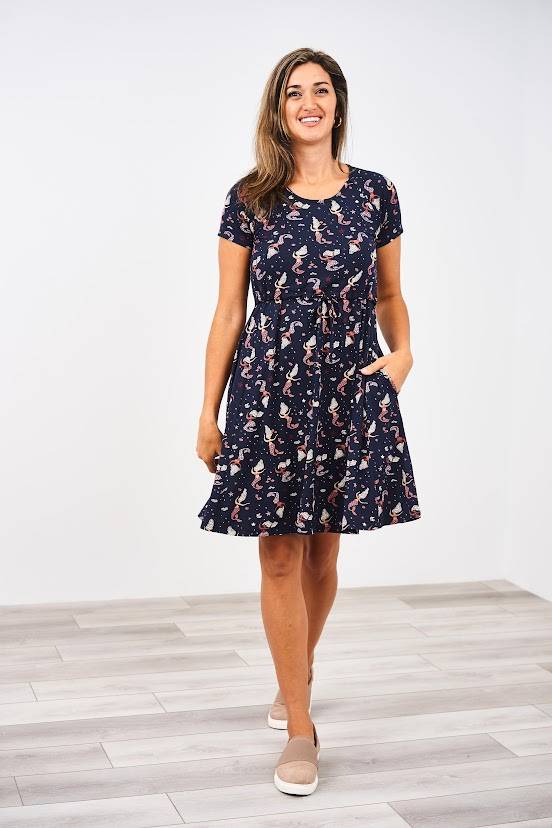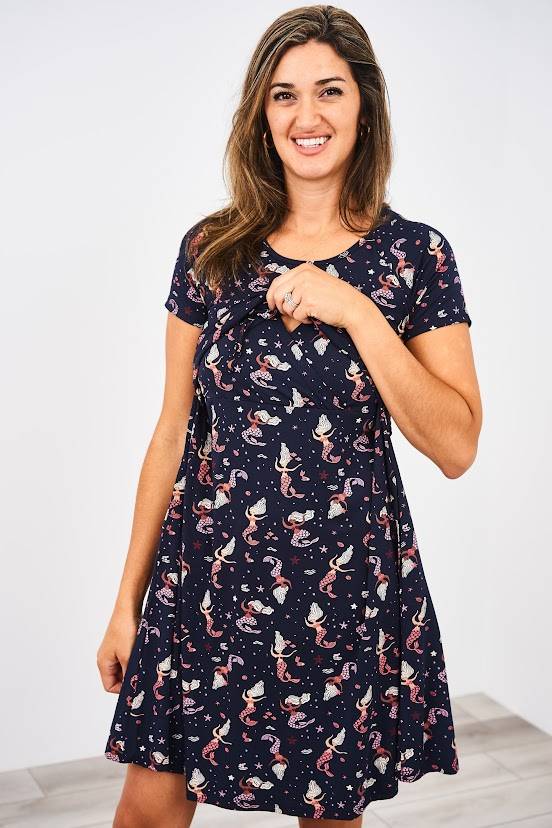 Looking for a casual dress that you can rock with sneakers? Then our Drawstring T-Shirt Nursing Dress is sure to be a perfectly playful addition to your nursing wardrobe.
Constructed from a buttery soft t-shirt-like fabric blend, this everyday dress is guaranteed to elevate your personal style and comfort level!
Its drawstring nursing access provides a trendy take on traditional nursing wear and can even be adjusted to cinch in your waist and show off those curves!
Like most of our styles, this breastfeeding-friendly dress is also perfect for pregnancy and is a flattering length for petite mamas!
"I finally decided to try a drawstring dress when the new prints came out. It is AMAZING! The fabric is super breathable, stretchy and forgiving, soft, and so flattering for my waistline. I know it won't pill and will last with washes as it feels similar to one of my favorite red star boyfriend tee's from a few seasons ago. I'm 5'4" and the length hits perfect just at the bottom of my knees. I know it will be great layered with leggings, boots, and a cardigan for fall, or on its own in those warmer spring/summer days. I originally thought the drawstring would make it look too much like a maternity dress (bc let's face it ppl still comment on my baby bump 2 years post partum lol), but it blends right in with the cute print. Thanks LM!" -Victoria 💕
Questions about Fabric, Fit, and Sizing? Email our amazing Customer Service Mamas at sales@latchedmama.com!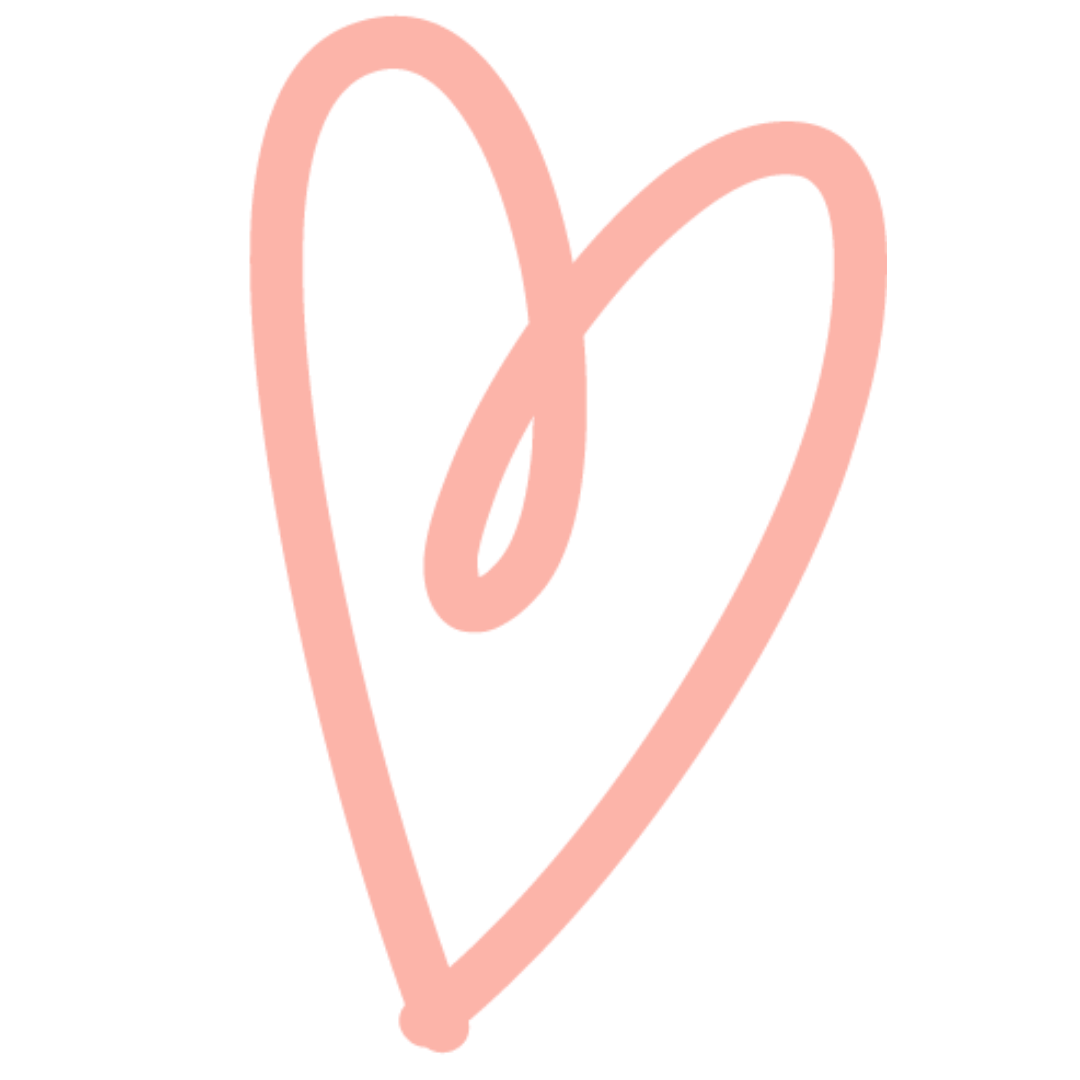 "Latched Mama didn't just save my confidence as a mom- it GAVE me my confidence as a mom. The difference breastfeeding a baby without Latched Mama and with Latched Mama was night and day. So thankful for this line!!!" - M 💕
See more favorites below:
Shop our full selection of nursing tops, nursing dresses, nursing loungewear, and accessories! ♡
At Latched Mama, our goal has always been simple: to support moms in their motherhood journey. That means that our goal is to support you and your family with our clothing and online community, along with empowering mamas locally and worldwide through education and one-on-one support. Our clothes and accessories are designed, picked, packed and shipped from our warehouse in Richmond, VA!
Learn more about Latched Mama here!
SHIPS FAST & WITH LOVE FROM RICHMOND, VIRGINIA!

We offer free shipping on domestic U.S. orders over $100!
1-ON-1 CLC BREASTFEEDING SUPPORT

Contact us at support@latchedmama.com, (844)-500-1325. or any social media channel for breastfeeding support, sizing help, and style advice!
Items that are in like-new, unwashed condition can be returned within 30 days for a refund. We also offer style exchanges and store credit! See our Returns FAQ here!