Ultimate Mama Holiday Gift Guide
Holiday shopping for that special mama got you stressed? We've got you covered!
There is NO DOUBT that she deserves a gift that honors the magnitude of this season in her life. But we know shopping for a new, pregnant, pumping, or seasoned mama can be tricky. That's why we curated our Ultimate Holiday Gift Guide to make gift shopping for that special mama a breeze!
Say goodbye to endless aisle browsing or battling over a parking spot because we've got the unique holiday gifts that are sure to make her heart sing- all with the convenience of never having to leave the house or the sofa!
But don't wait- popular prints and best-selling styles are sure to sell out QUICK, so be sure to reserve your spot on Santa's sleigh today!*
***Due to nationwide shipping delays we cannot guarantee delivery dates***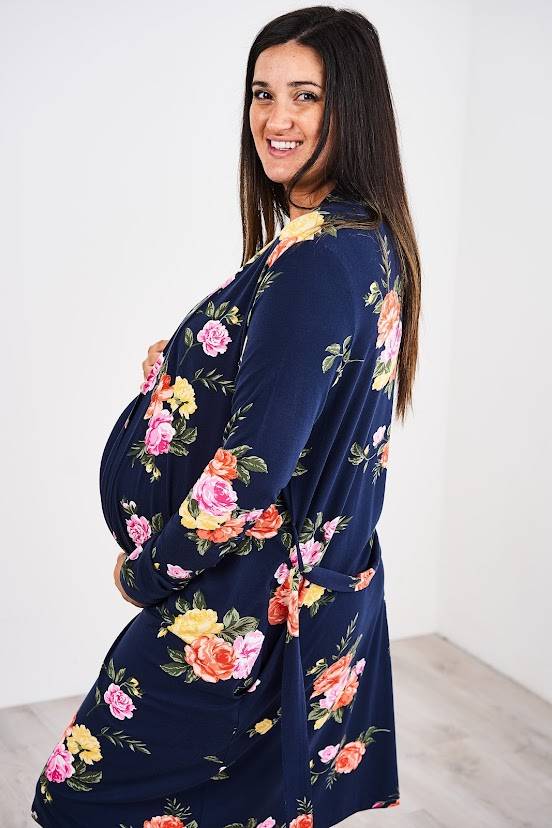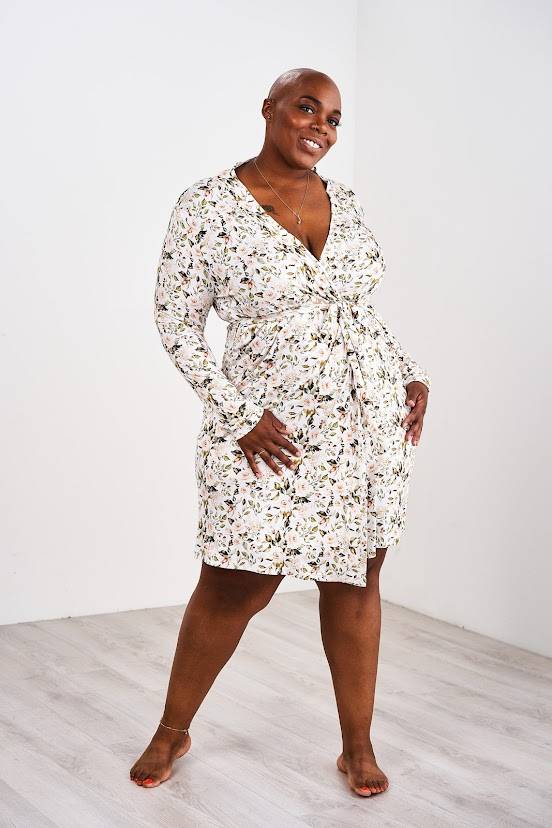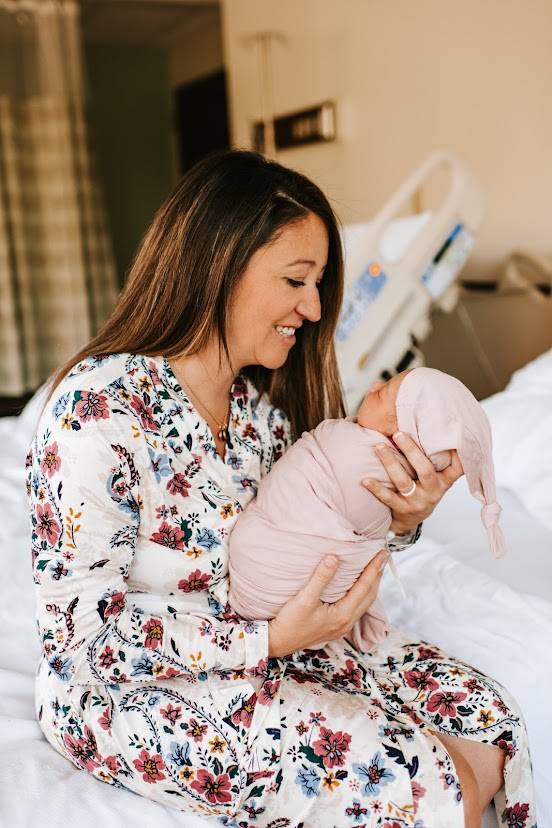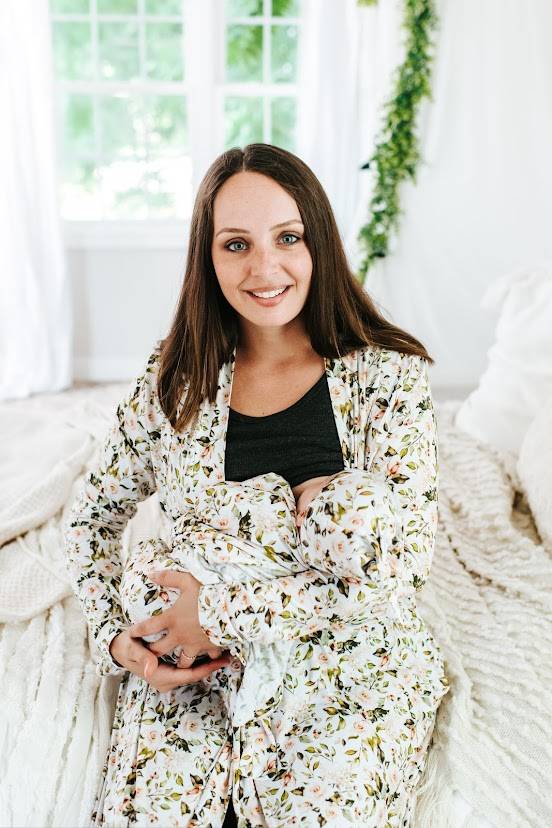 Maternity Labor Nursing Robe
Everyone deserves a good robe- but no one is more worthy of warmth and comfort than an expecting mama! So why not give her the gift of unwrapping a present that wraps HER in luxuriously lightweight comfort? Perfect for pregnancy, postpartum, breastfeeding, and beyond, there is no other new-mom necessity that is more timeless than our must-have Maternity Labor Nursing Robe! Looking for a gift that incorporates both baby AND mama? We've got the perfect fix! Simply add a matching Swaddle Blanket and Hat Set to make those priceless first moments even more personable.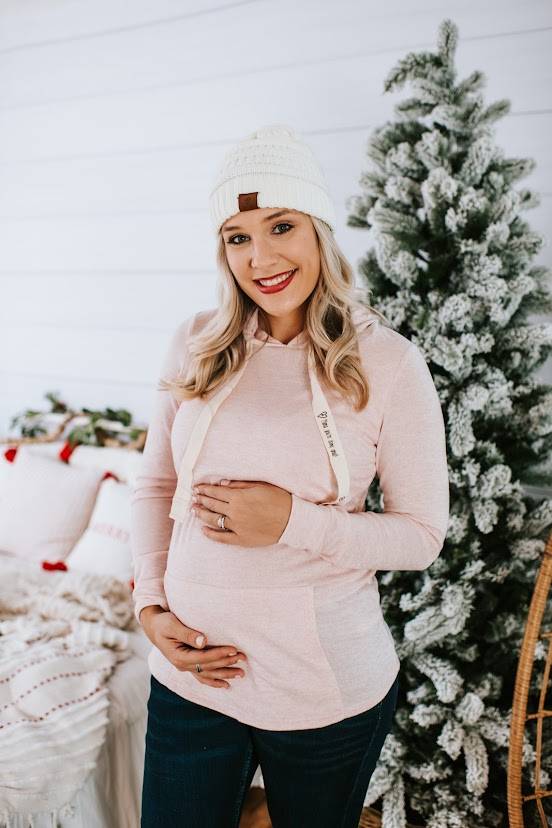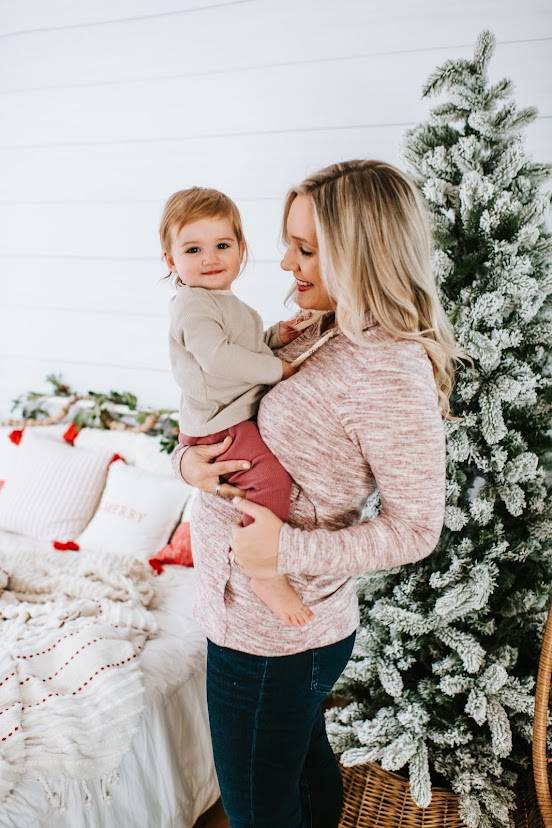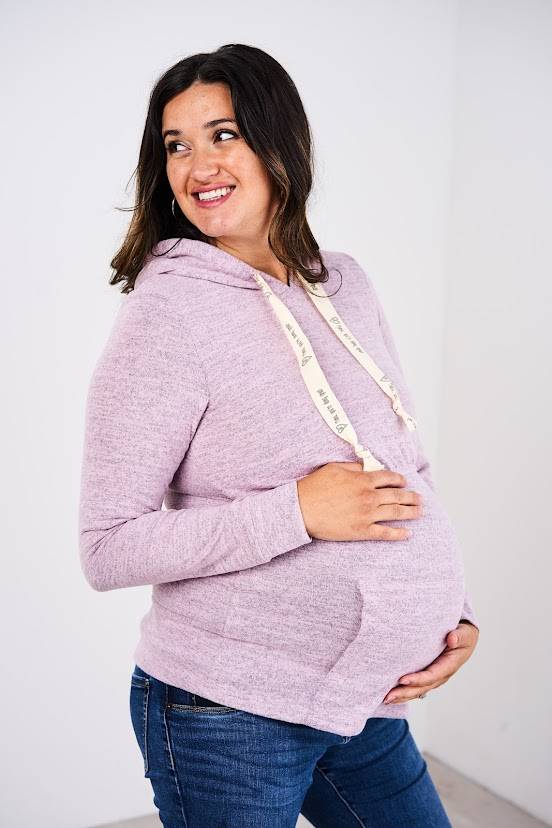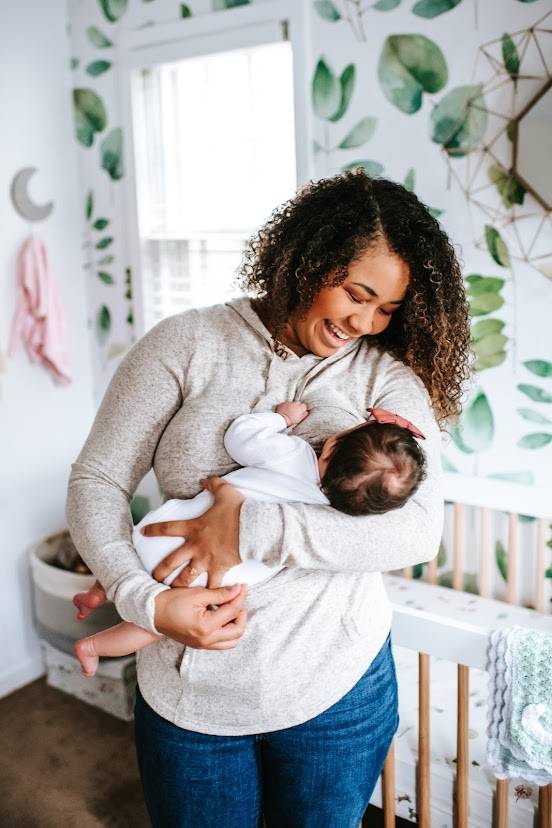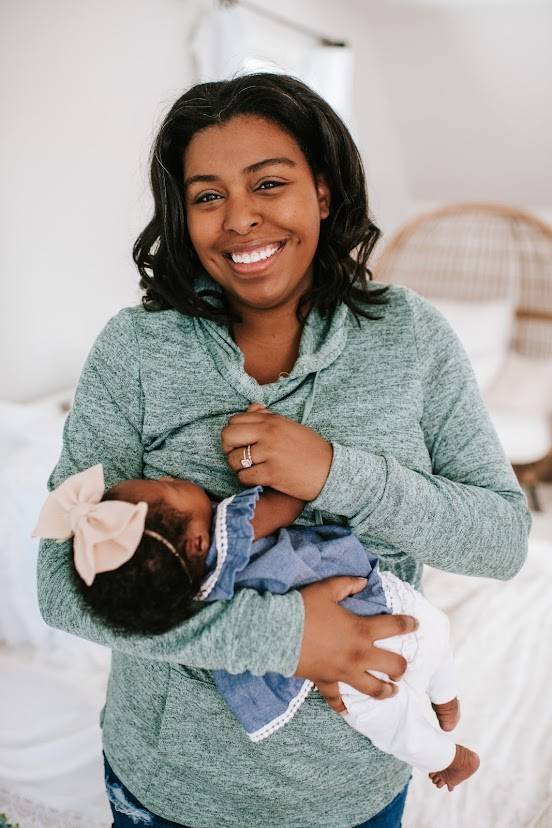 Finding a hoodie to accommodate a growing belly can be tricky, which is why we LOVE recommending our Everyday Hoodie to EVERY expecting mama we know! Designed to grow with you, this lightweight hoodie is the perfect pick to stay warm and toasty throughout your pregnancy. Best of all? This trendy maternity hoodie also doubles as a breastfeeding-friendly top, making it a thoughtful gift that transcends the limitations of traditional maternity wear.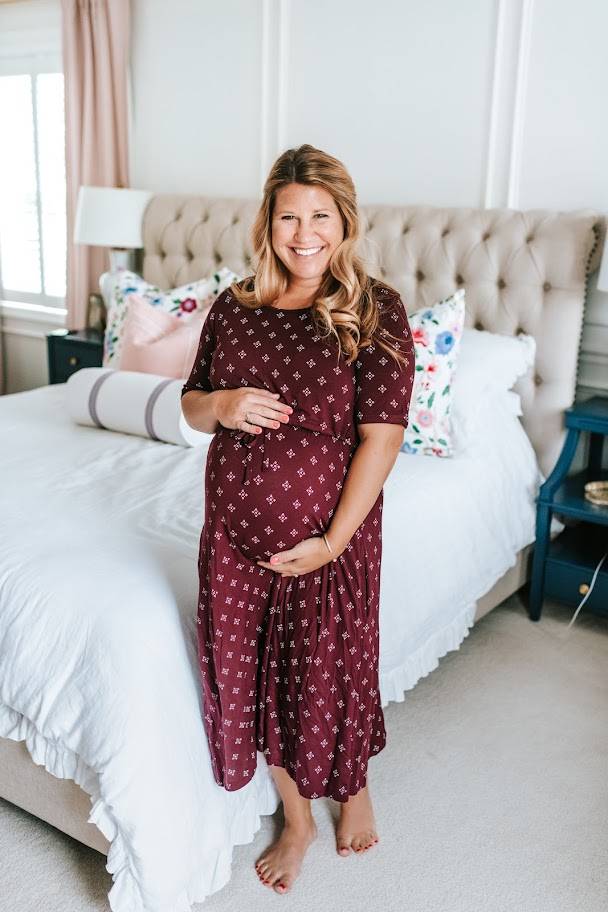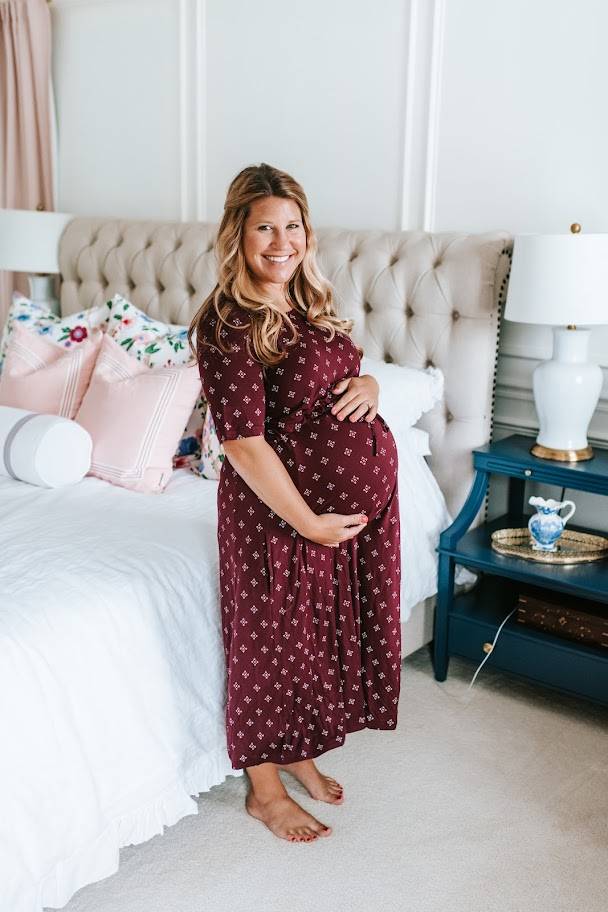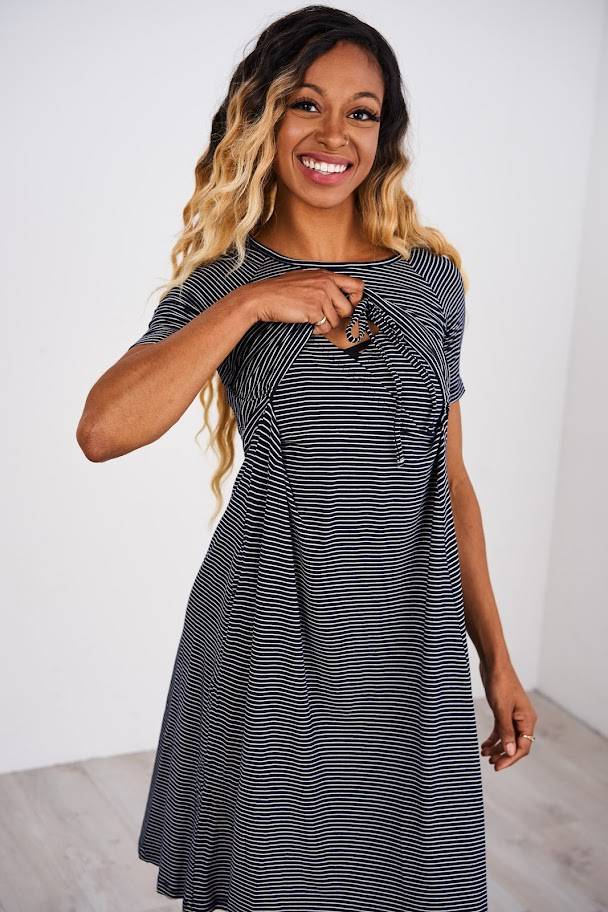 Say YES to nursing in a dress! Breastfeeding-friendly fashion has come a LONG way, so if you really want to dazzle the expecting mama in your life, try surprising her with our revolutionary Drawstring Nursing Dress! Not only is this darling dress the perfect pick to accommodate a growing bump, but it's easy breastfeeding access will help open her up to a whole new world of nursing-friendly possibilities!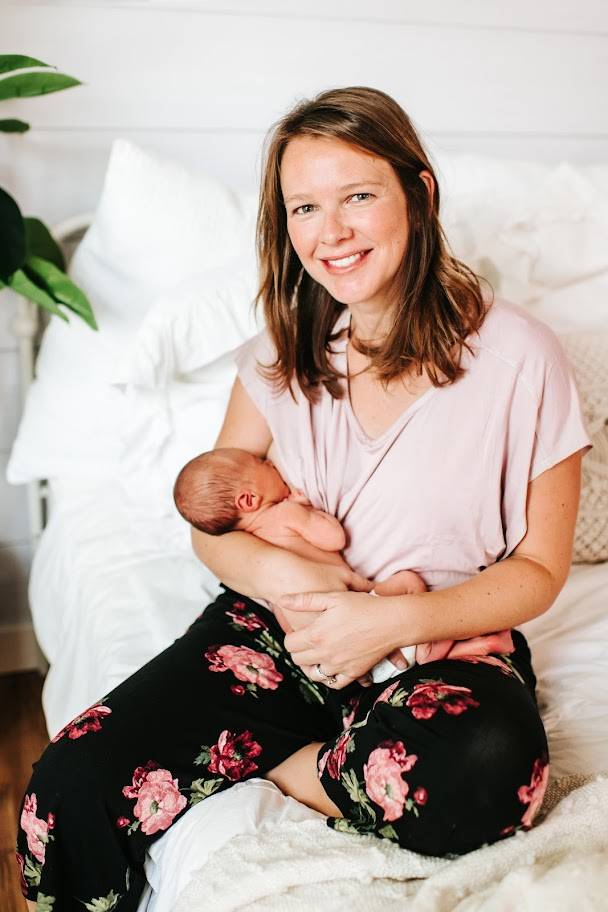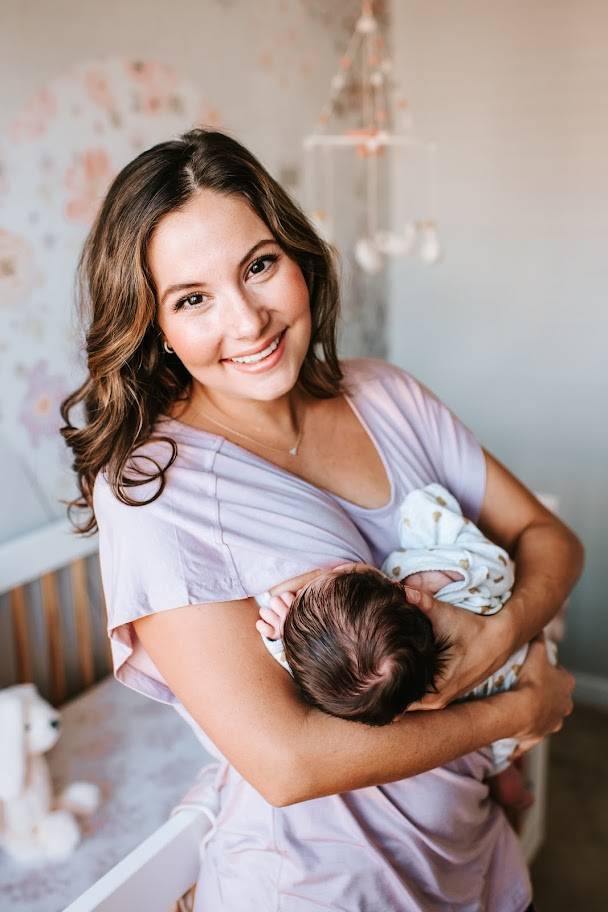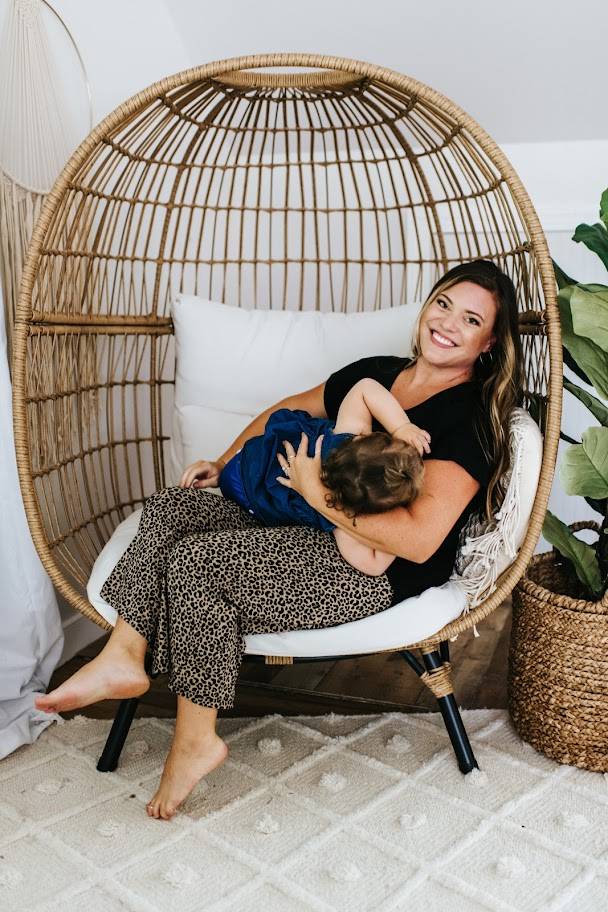 Slumber Lounge Pant and Tee Set
The postpartum period is one of incredible strength and vulnerability, so help nurture the new mama in your life by giving her the gift of rest. Although we still haven't managed to put sleep in a bottle (working on it!), what we CAN provide is luxurious loungewear that is delicate enough for baby's sensitive skin w
hile still being strong enough to endure all of the challenges of the postpartum period. Bump, breastfeeding, and c-section friendly, our Slumber Lounge Pant and Tee Set provides new mamas with the level of comfort and convenience they need to help cultivate their inner calm.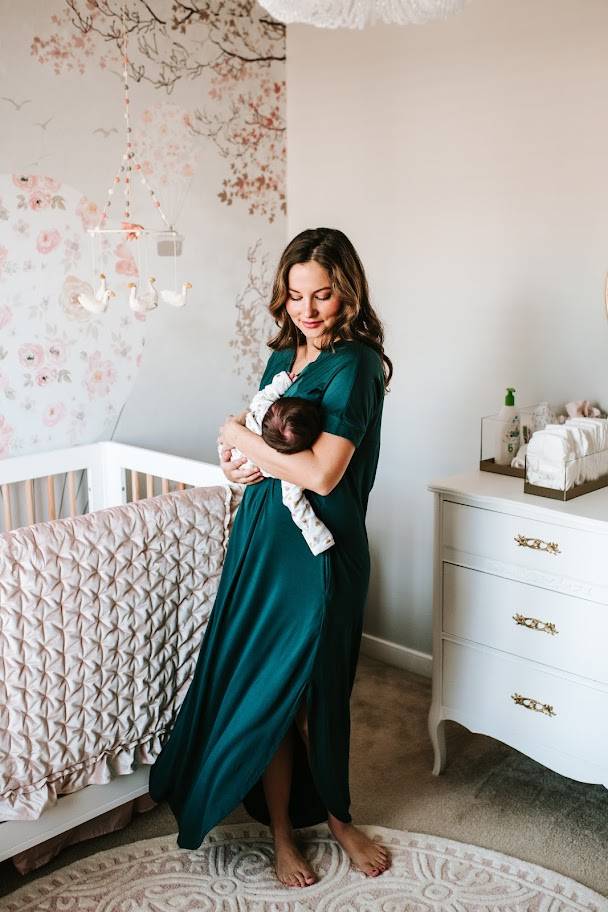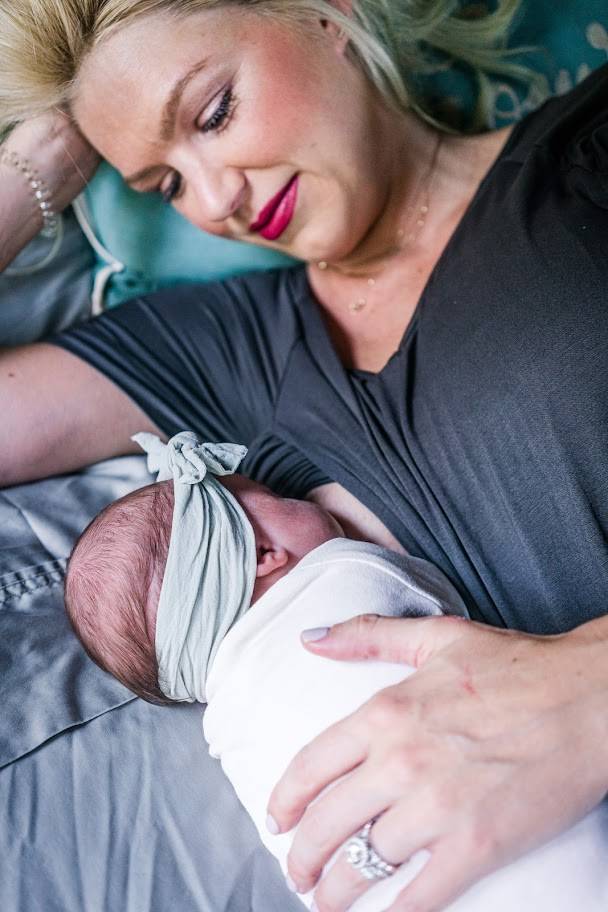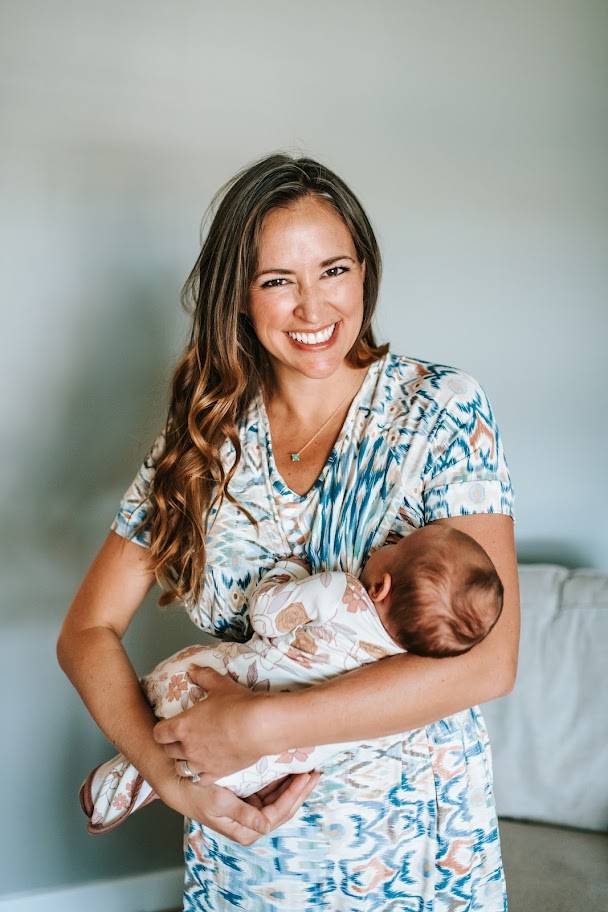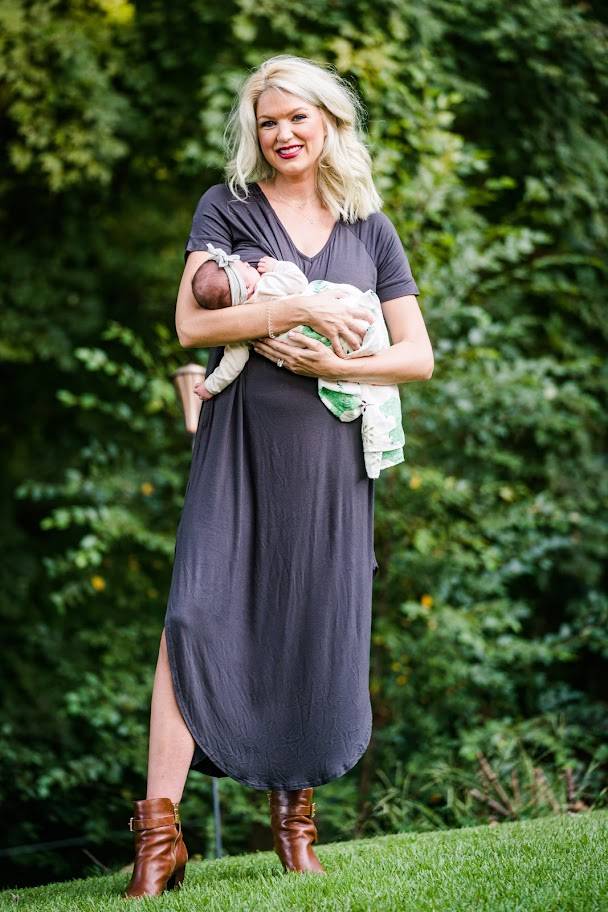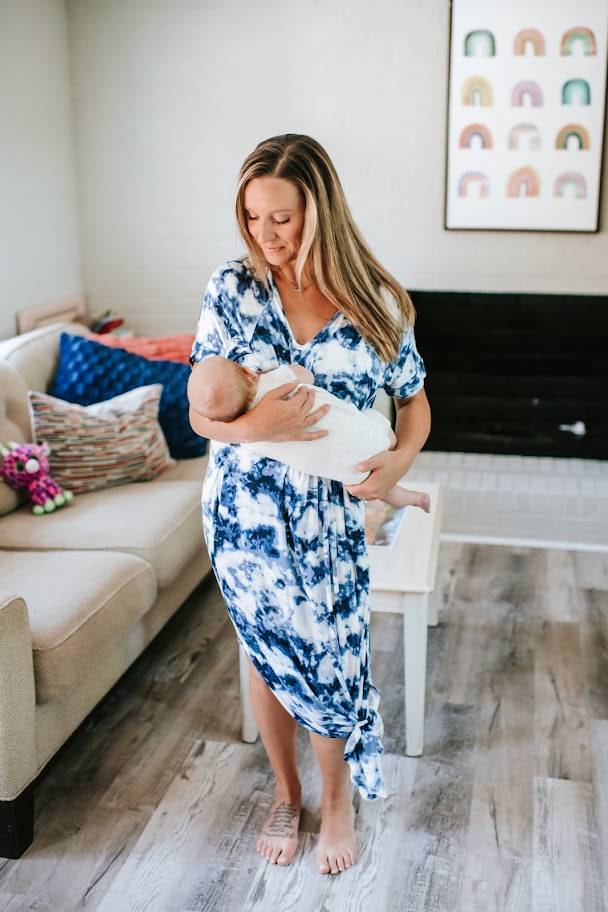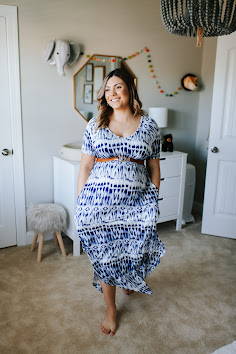 Dolman Maxi Nursing Dress
Being a postpartum mama means comfort takes priority! From the massive pads to the peri bottles, it's no surprise that many new mamas would prefer to put off wearing pants. So why not give her a dress that is not only designed to help accommodate those foggy first few days of motherhood, but also help her feel fabulous? Featuring intuitive nursing access and a flattering draped fit that won't cling to her tummy, ourDolman Maxi Nursing Dressis the perfect introduction to the beauty and comfort of nursing wear.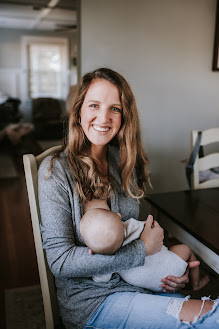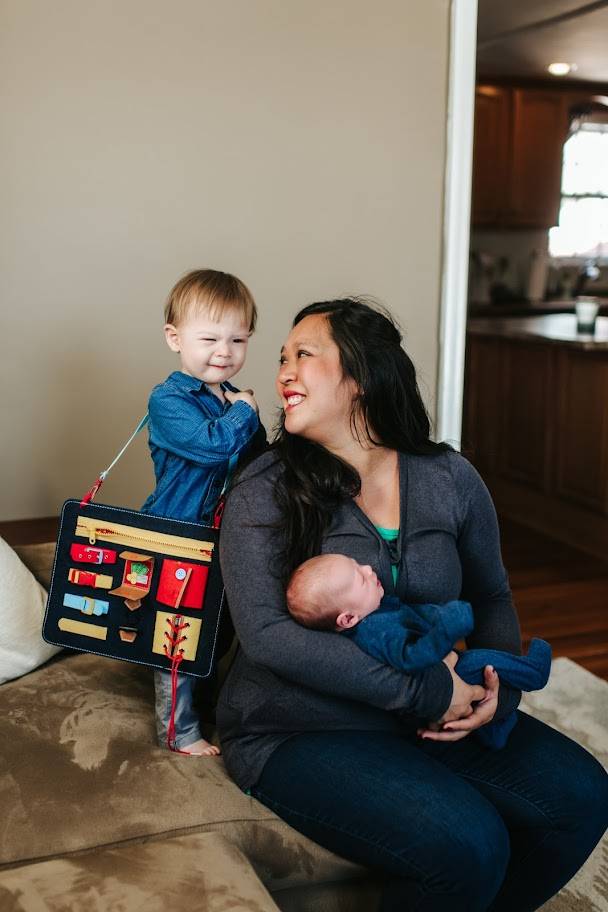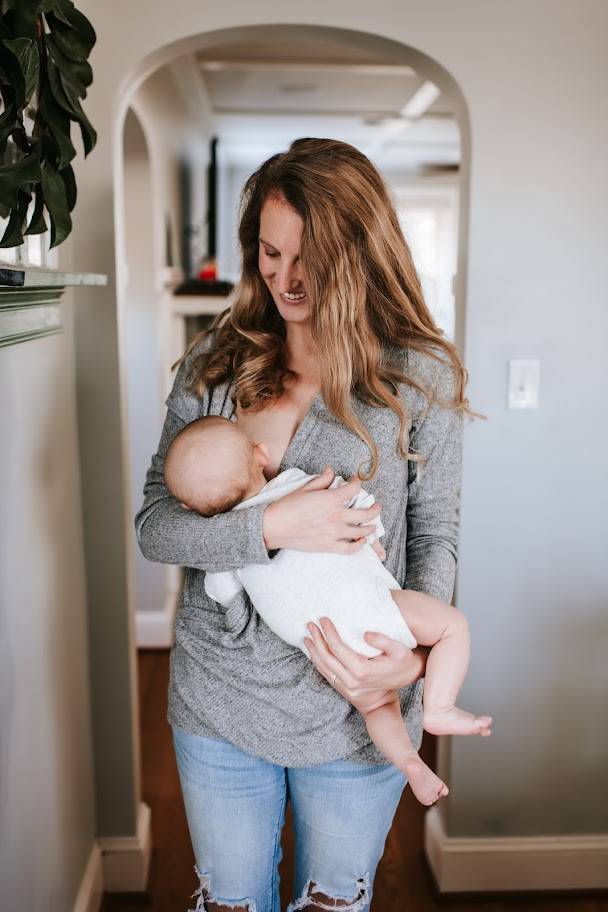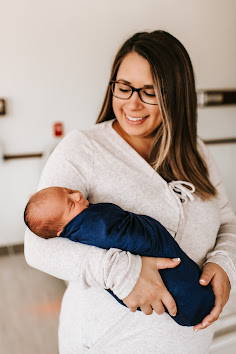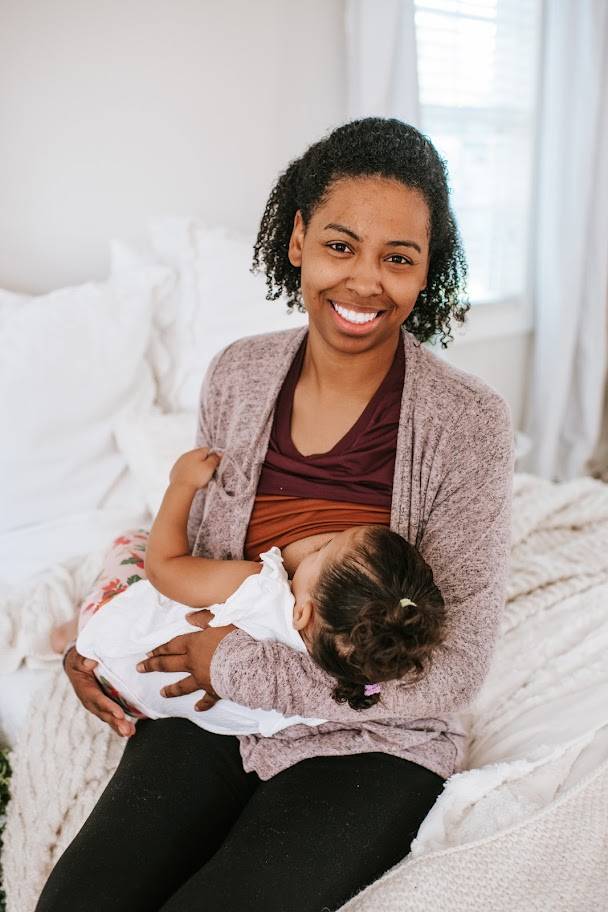 Tie Front Nursing Sweater
Fun fact: did you know that our Tie Front Nursing Sweater is our founder, Melissa's top pick for new mamas? From its silky smooth, baby-skin approved fabric blend to its easy skin-to-skin and nursing access, everything about this top was designed with the postpartum mom's needs in mind. Perfect for snuggling up and bonding with your new bundle of love, this cozy piece is sure to become a sentimental staple in her closet for years to come.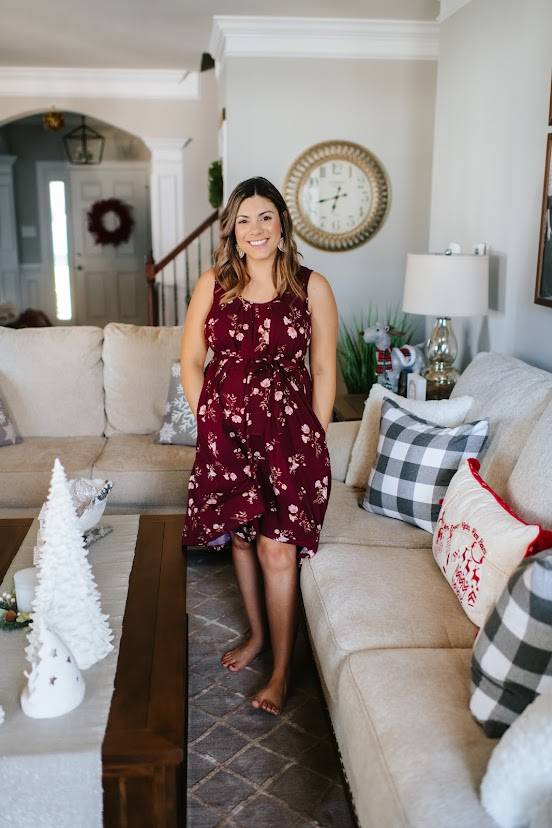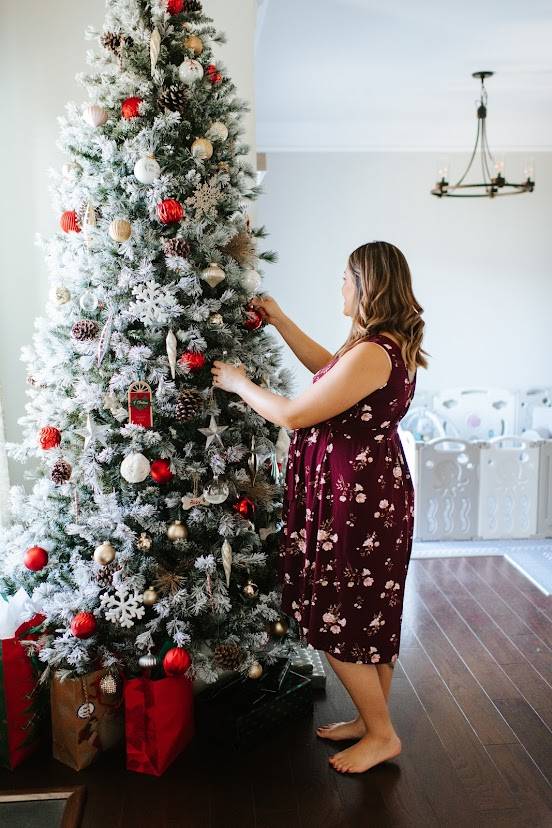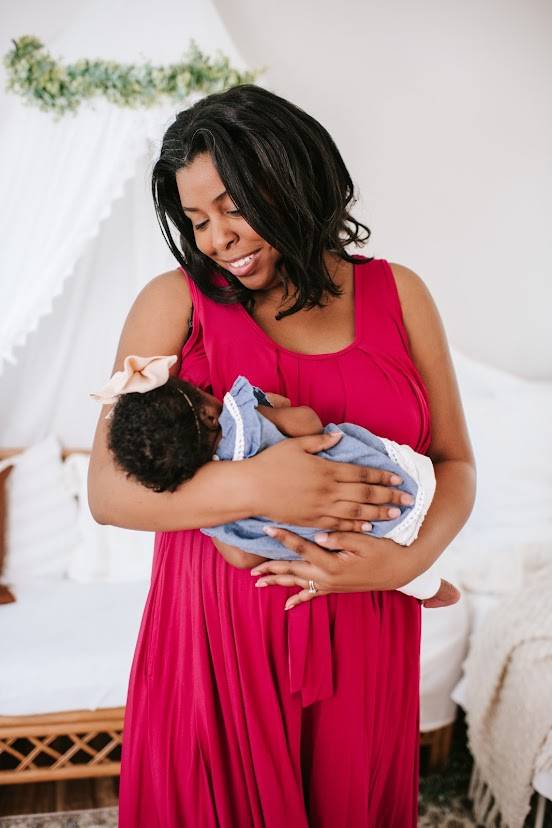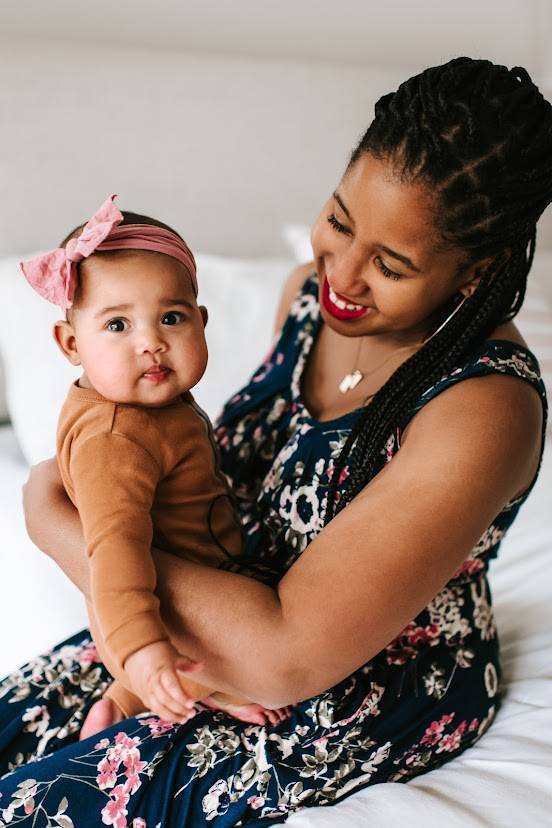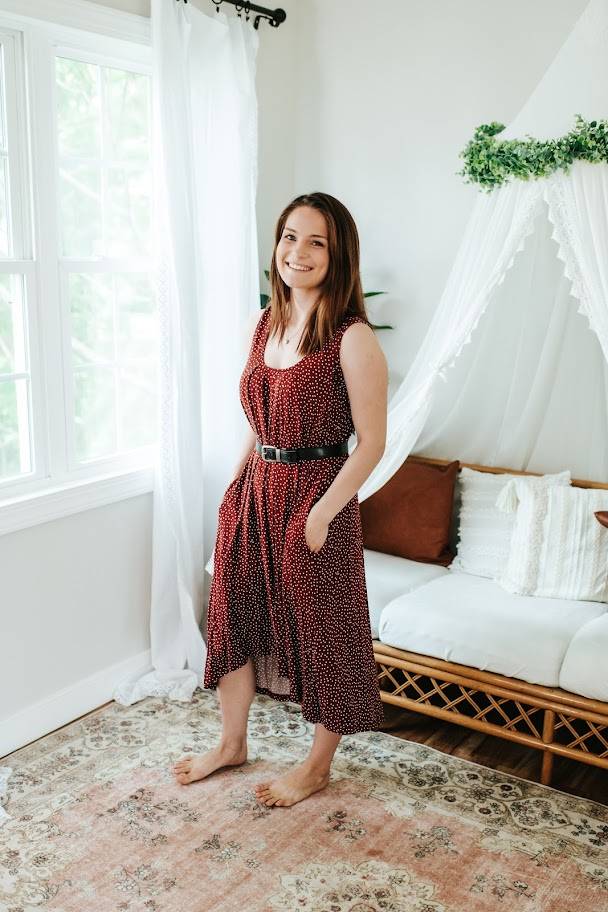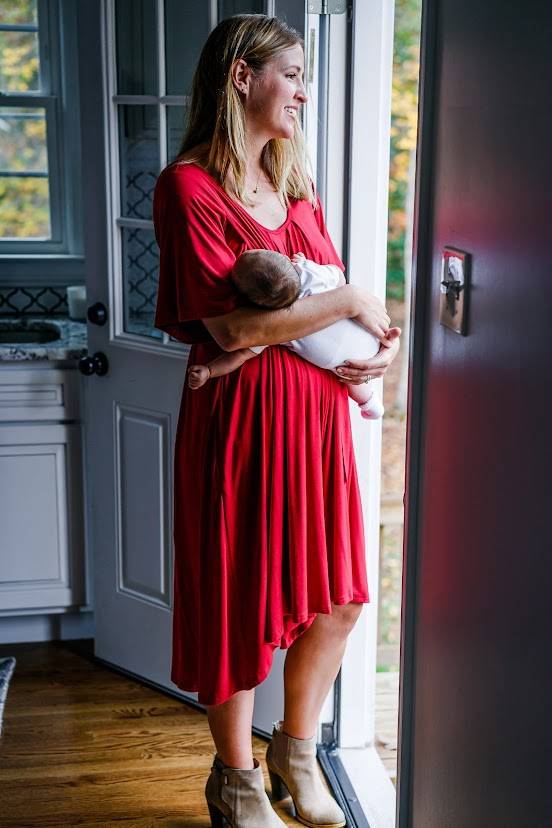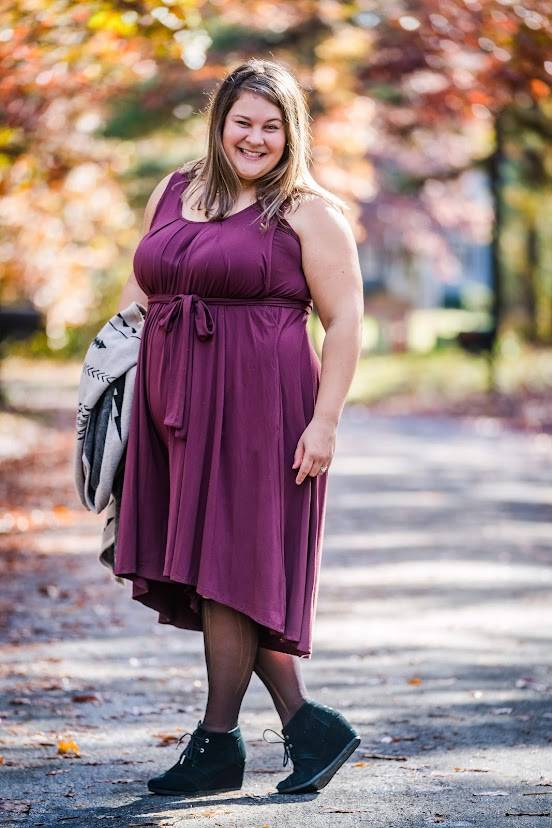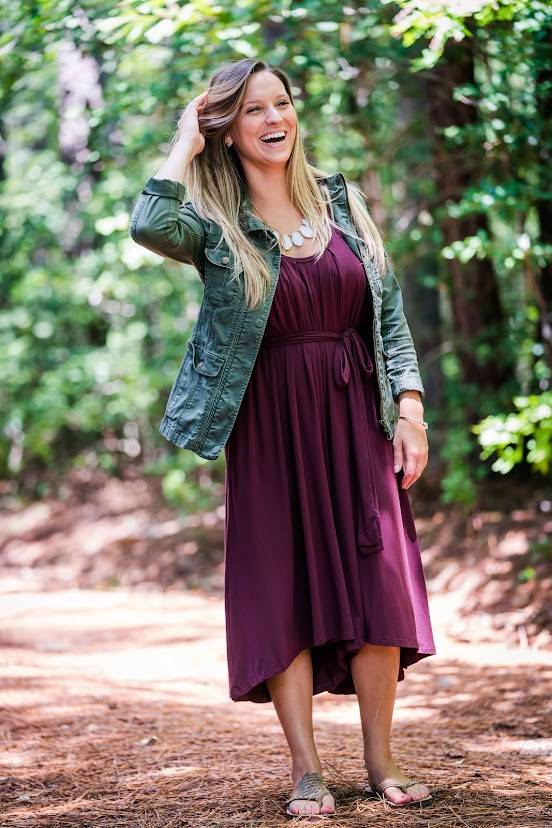 It's time to bust out the flanges because our flagship Nursing Romper has been a long-time fan favorite- and for a good reason! Not only does this flattering style look like a dress- it's also designed with the functionality of mom-life in mind! Featuring built-in pant legs, pockets, and side access nursing PERFECT for pumping, this unique style is a foolproof way to let the special mama in your life express her personality- and express some fresh milk in the process!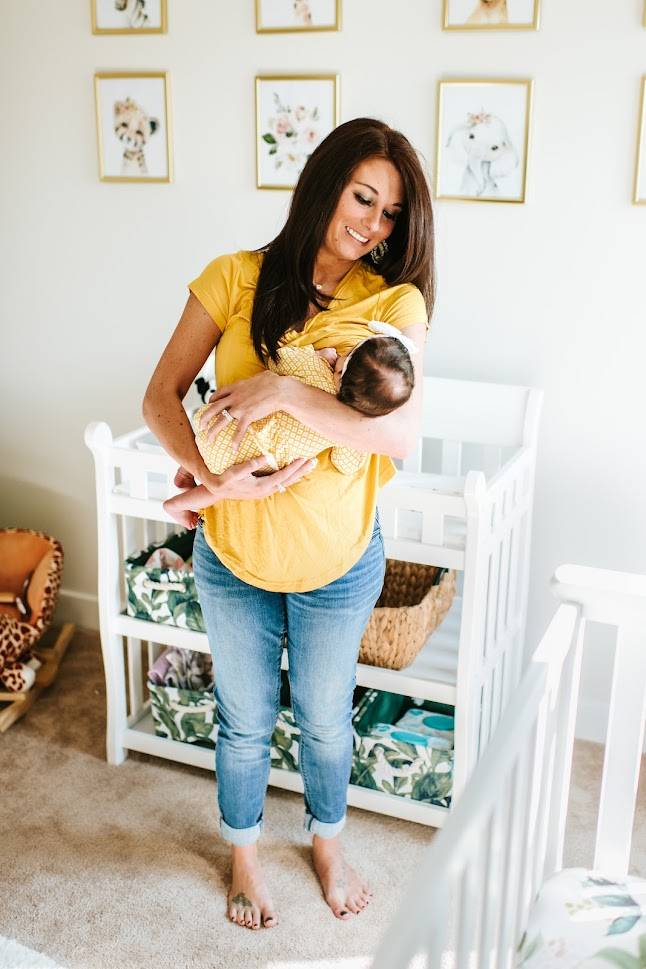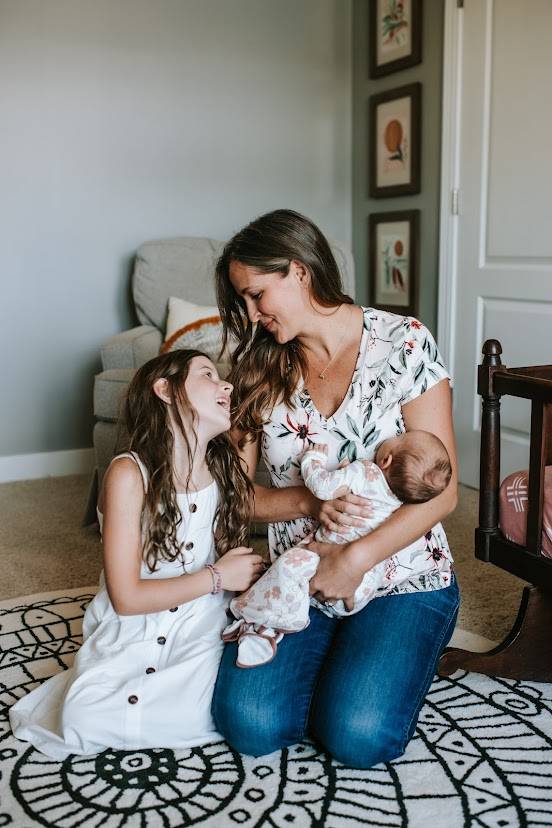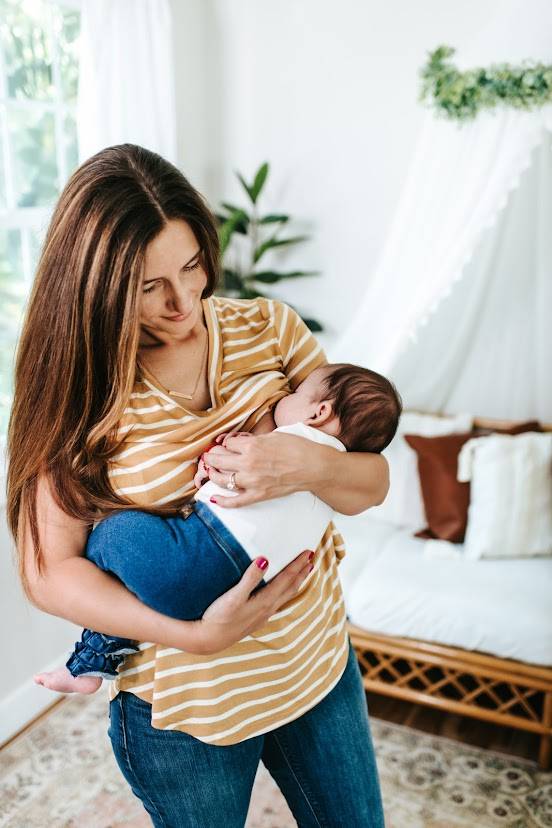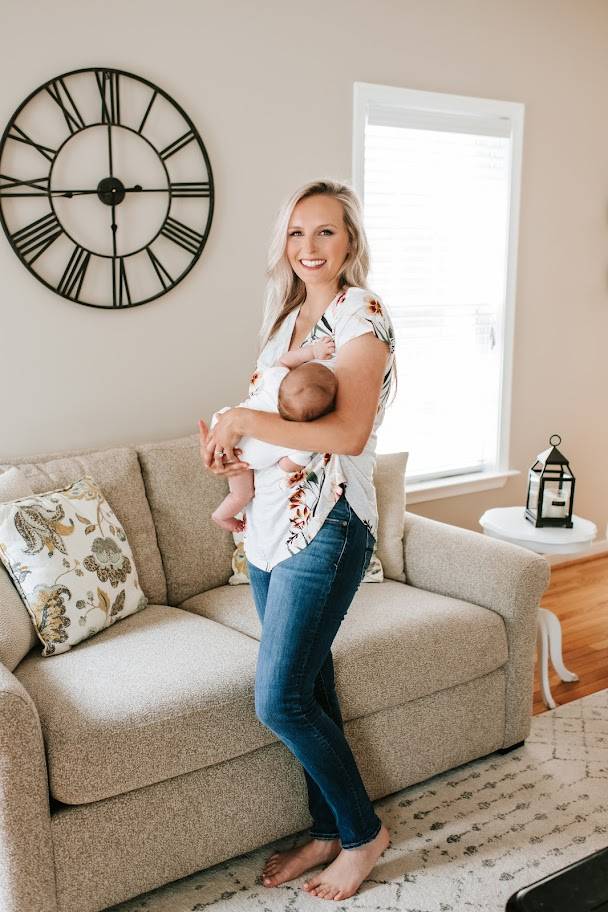 V-neck Boyfriend Nursing Tee
Pumping is a full-time job- so it's imperative to make sure ALL breastfeeding mamas feel empowered at all times. That's why we LOVE recommending our V-neck Boyfriend Tee to our pumping mamas! We know that pumping on the go can be tricky, so we designed this tee to help you go with the flow of motherhood without having to slow down. Thanks to its double-layered design, this trendy tee makes even pumping in public feel a little more private by keeping your belly covered. Plus, thanks to its dual nursing access, she'll be able to double down and get the job done in style!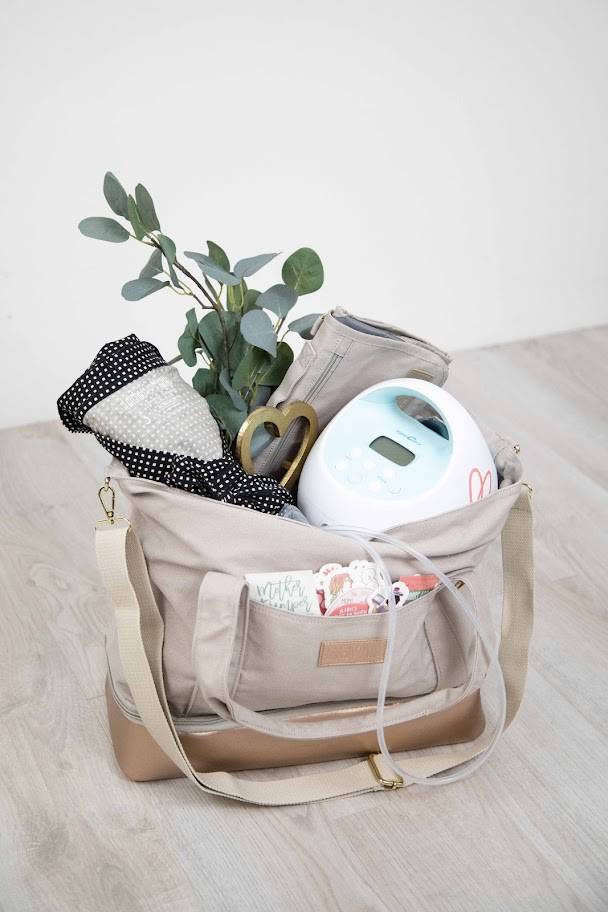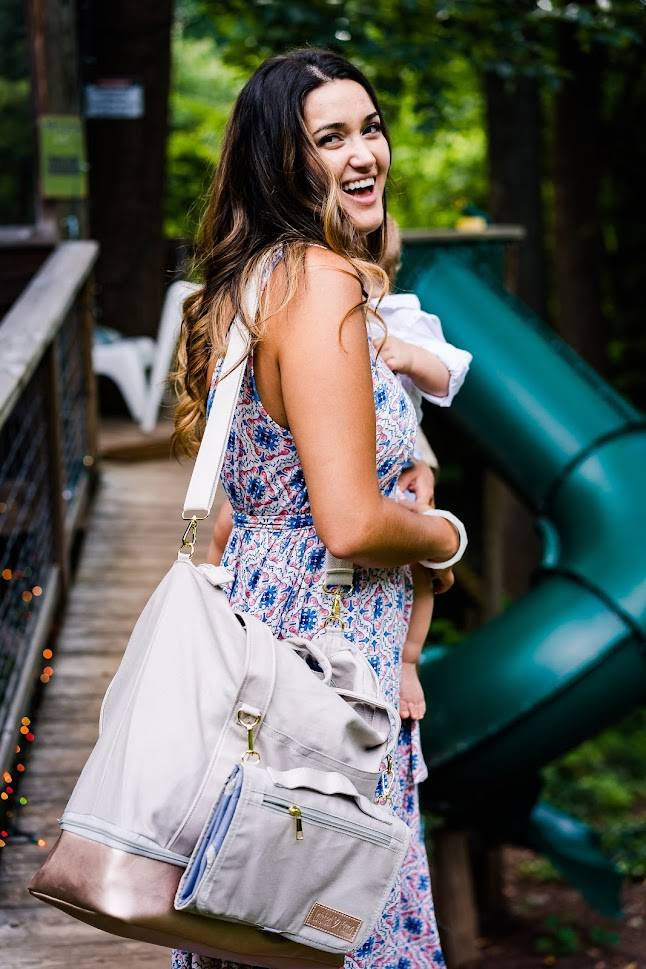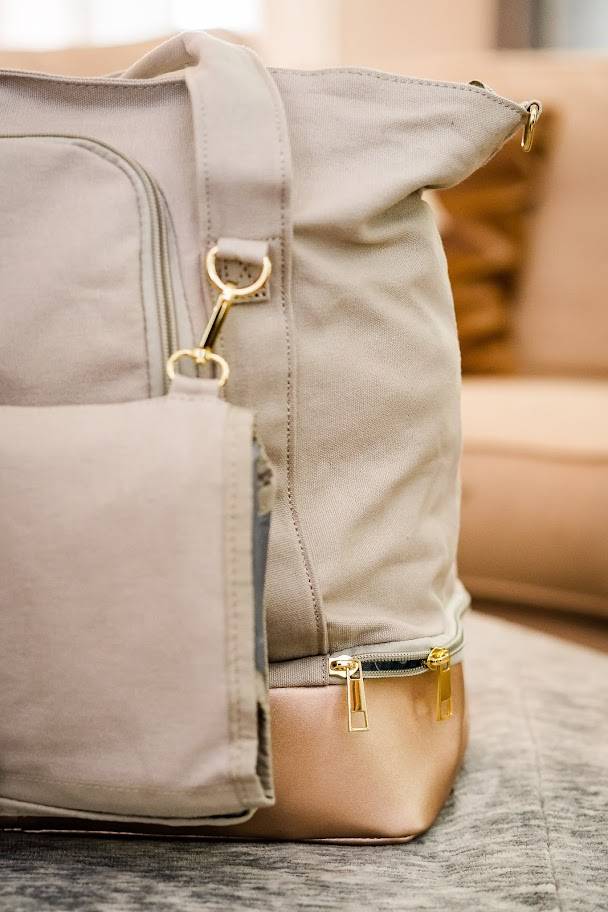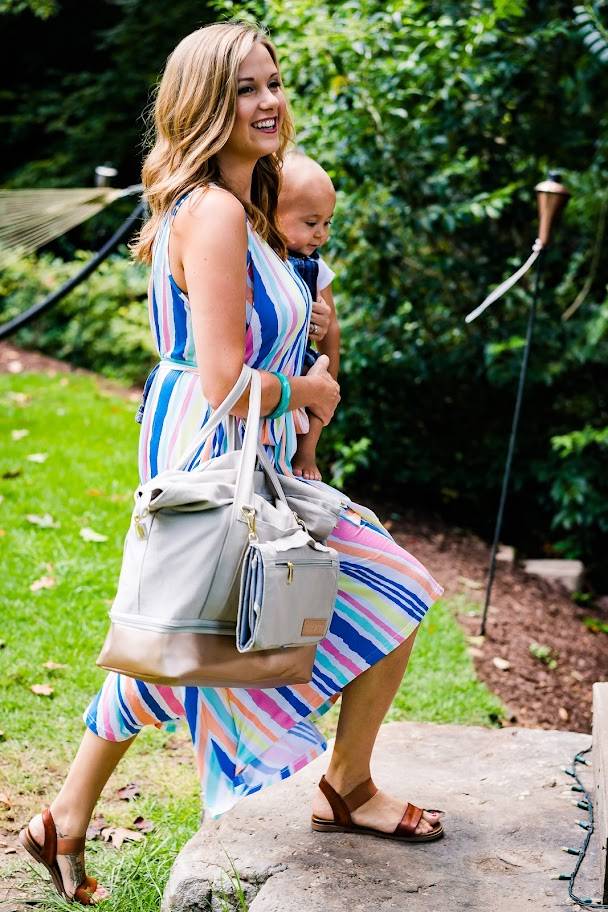 Transporting liquid gold deserves the Cadillac of diaper bags- and we think that our Mom Life Everyday Bag fits the bill. So much more than JUST a diaper bag, this multi-functional, supersized zippered tote was designed to take on anything motherhood may throw her way. Masterfully crafted with thoughtful features like insulated pockets for bottles of expressed milk PLUS a pump-friendly storage compartment, this heavy-duty bag is sure to make every pumping mama-on-the-go say "ho-ho-ho!"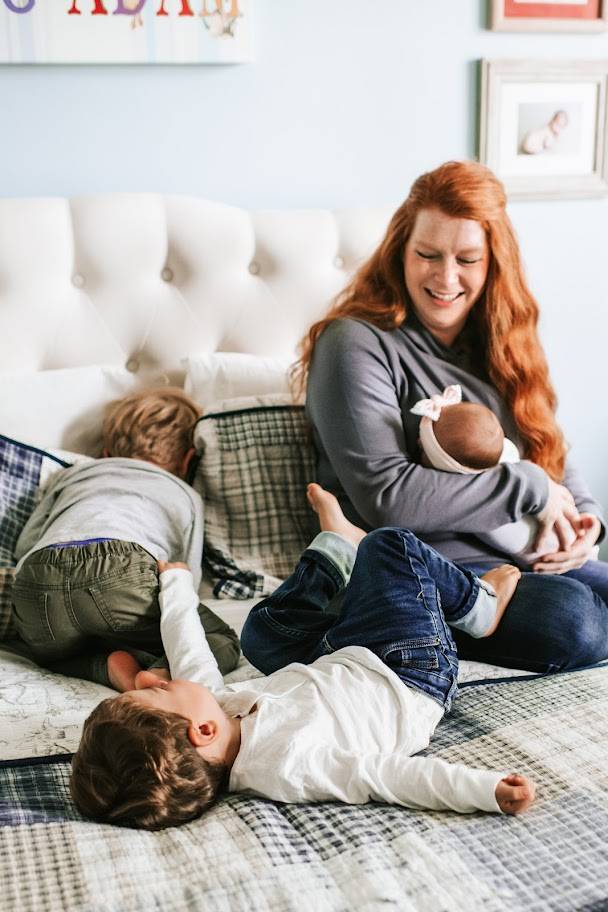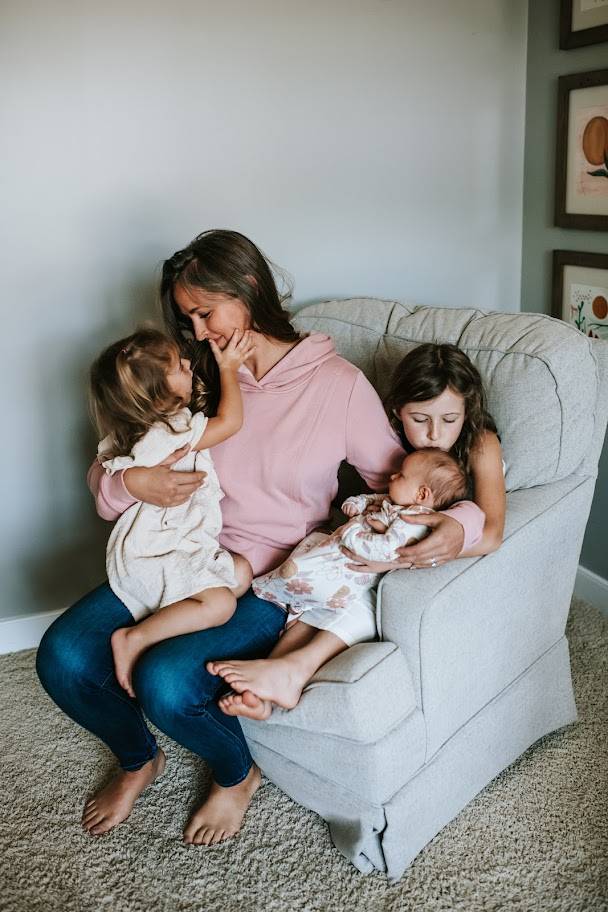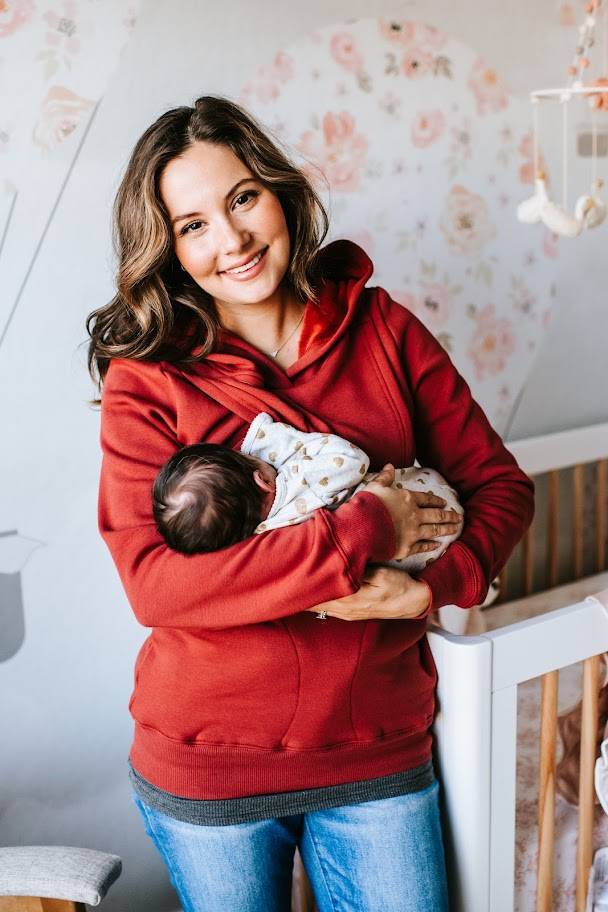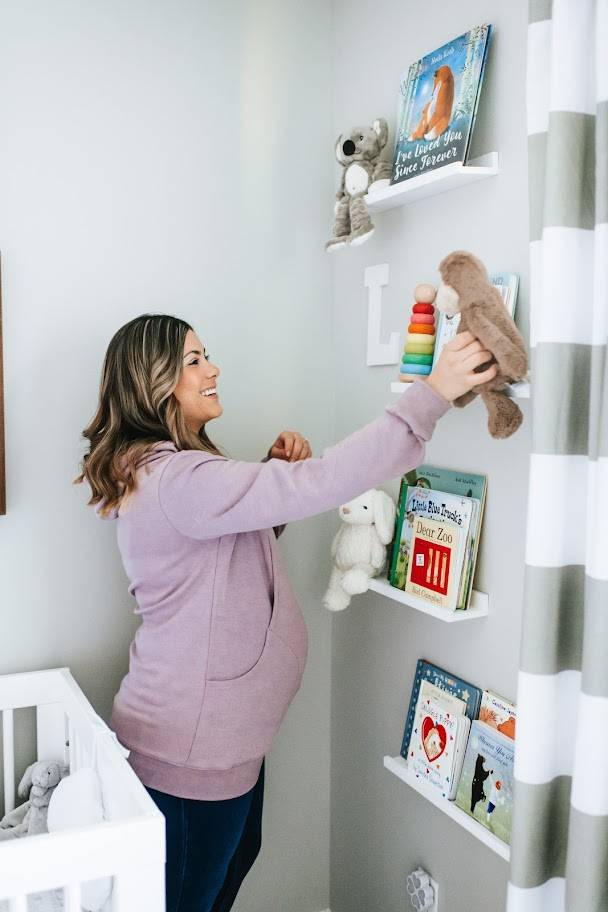 Being a mama of many means you're almost always on the go. From band practices to sports games, we know first-hand that life doesn't stop just because you have a new nursling! That's why we LOVE recommending our extra-warm, fleece-lined Heavy Hoodie as a gift for EVERY busy breastfeeding mama we know. So bundle her up this holiday season with a thoughtful and practical gift that's sure to warm her heart- literally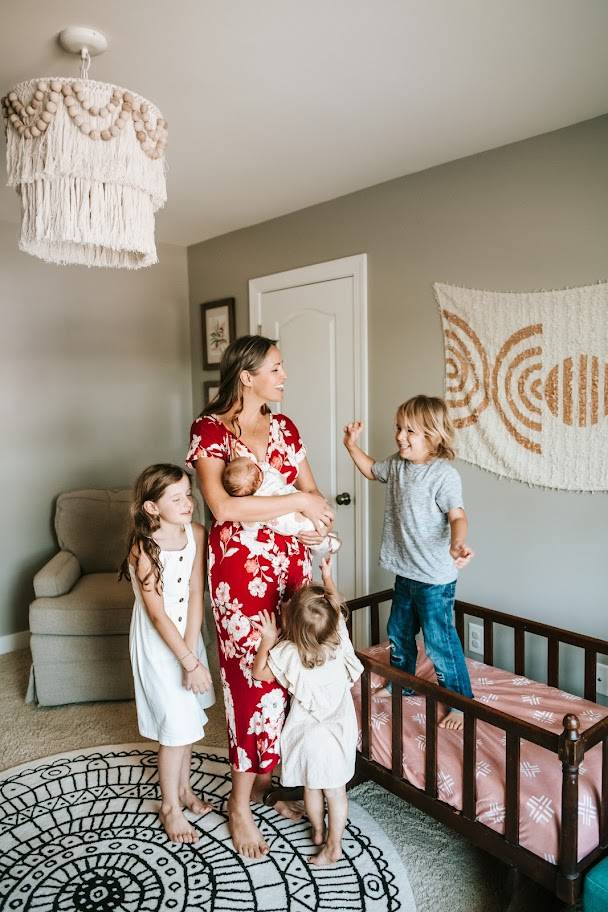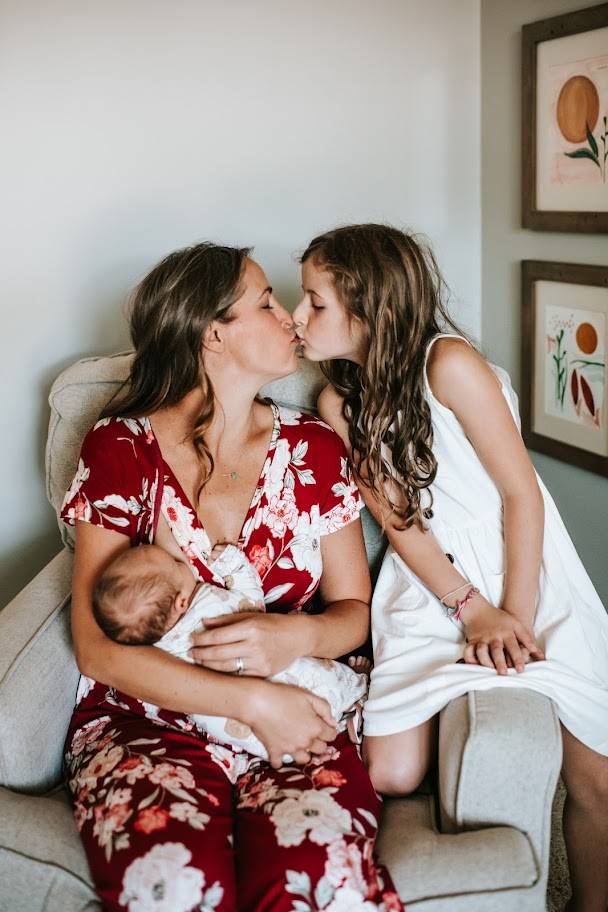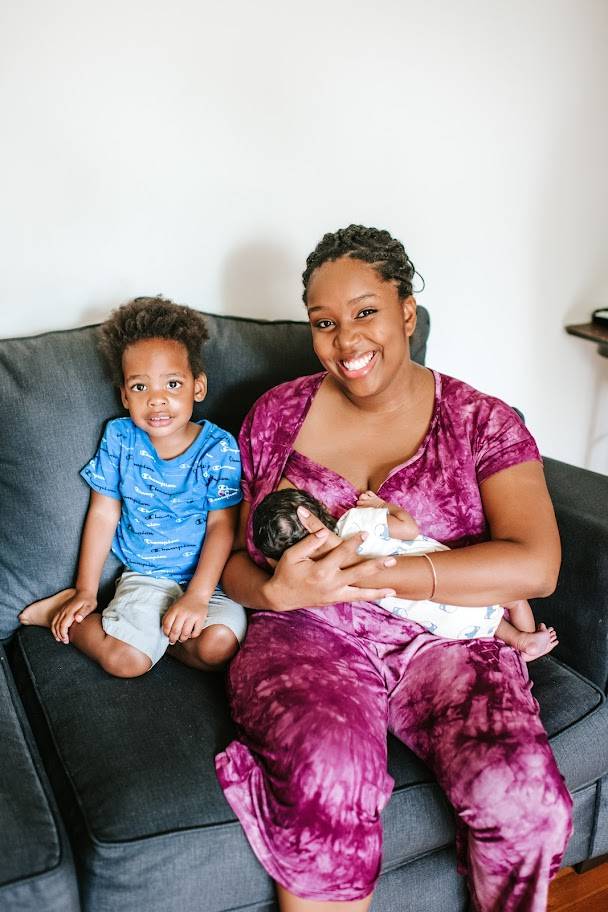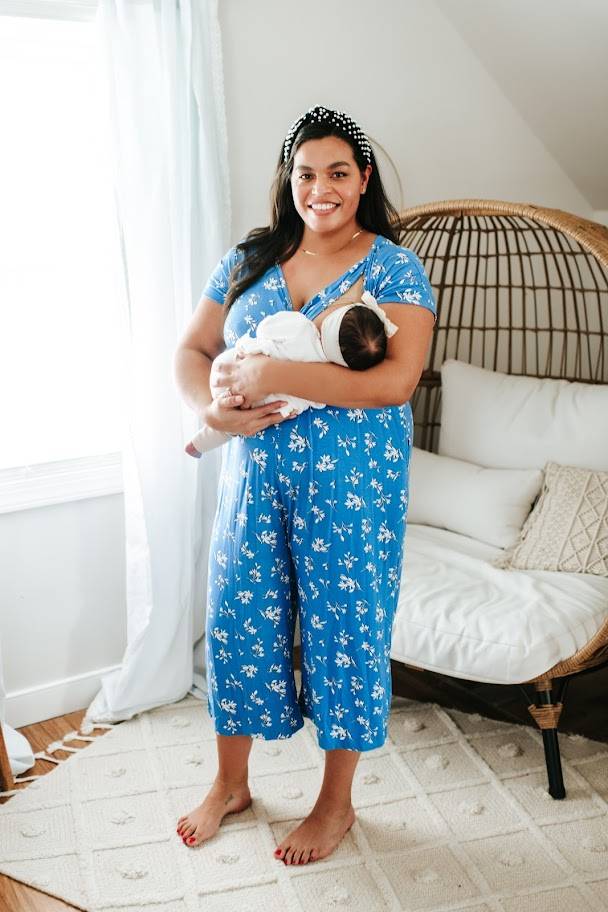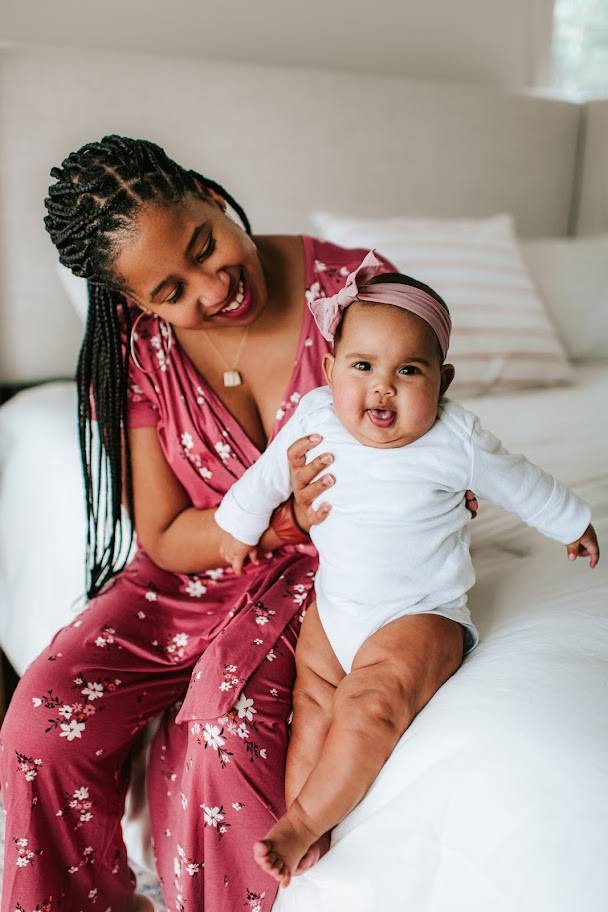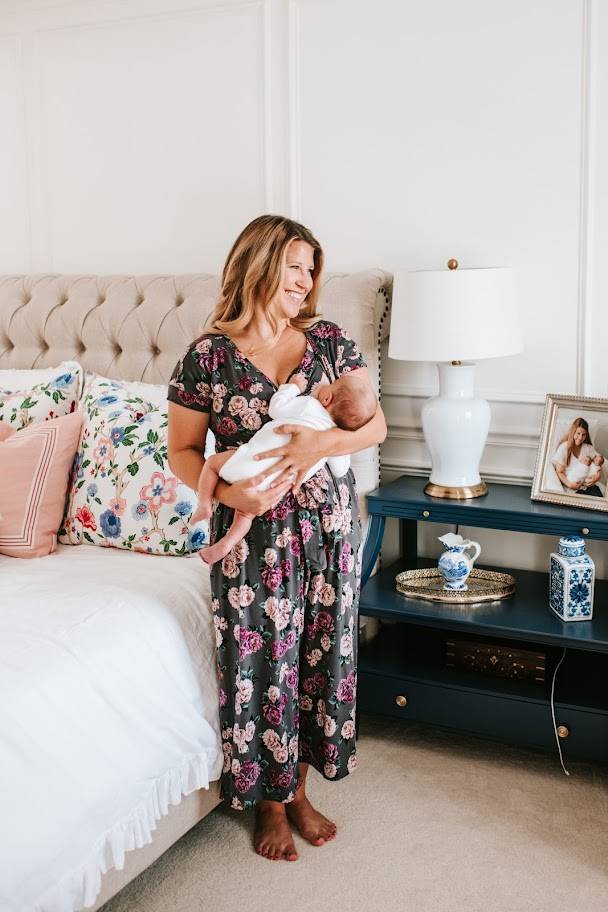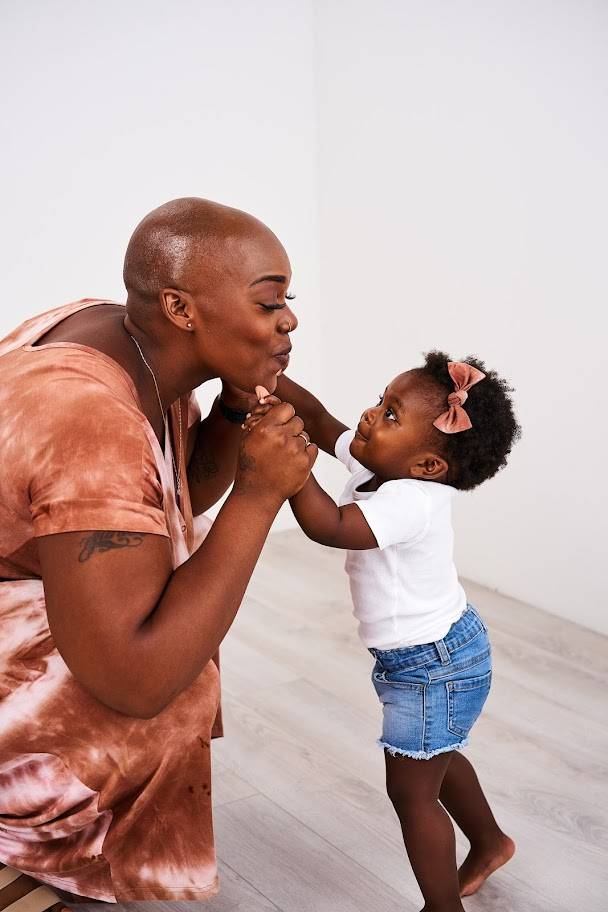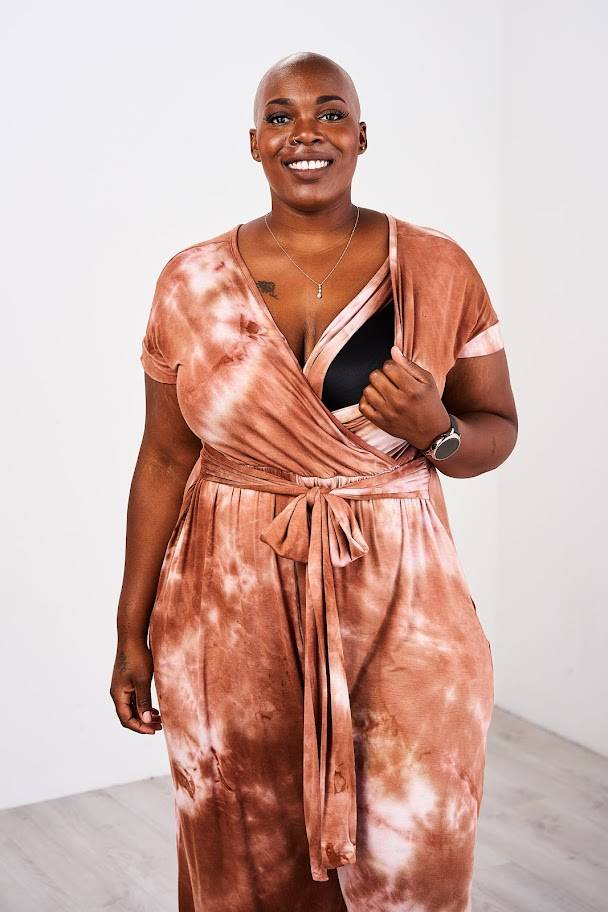 Having a lot of littles means that dressing for mobility matters! After all, have you ever tried chasing down a toddler in a cocktail dress? Not exactly our idea of a fun night! That's why we can't get enough of our V-Neck Nursing Jumpsuit. Perfect for the mama who needs to be able to pop a squat at a moment's notice, this flattering yet functional jumpsuit is the perfect gift for any mama who wants the prim and polished look of a dress, but with the toddler chasing superpowers of pant legs.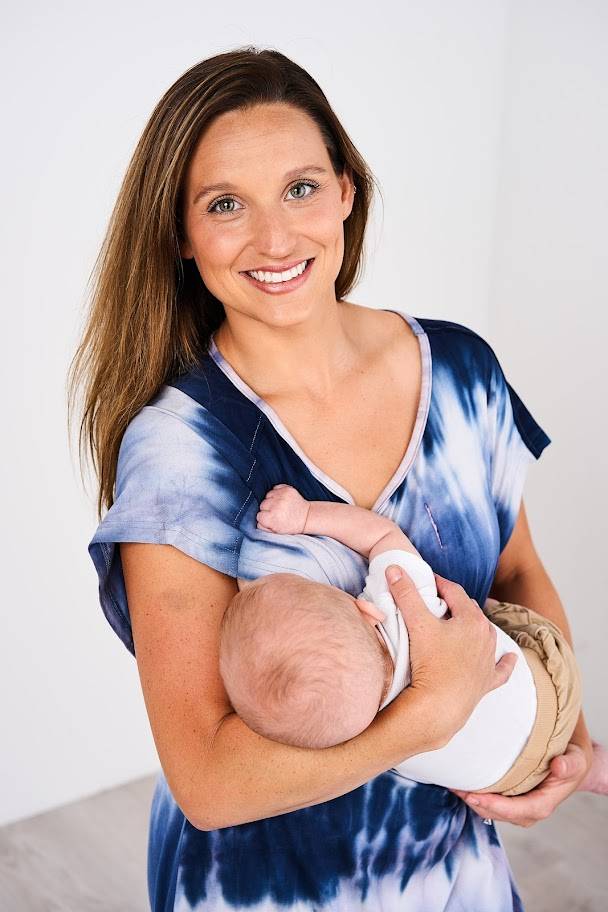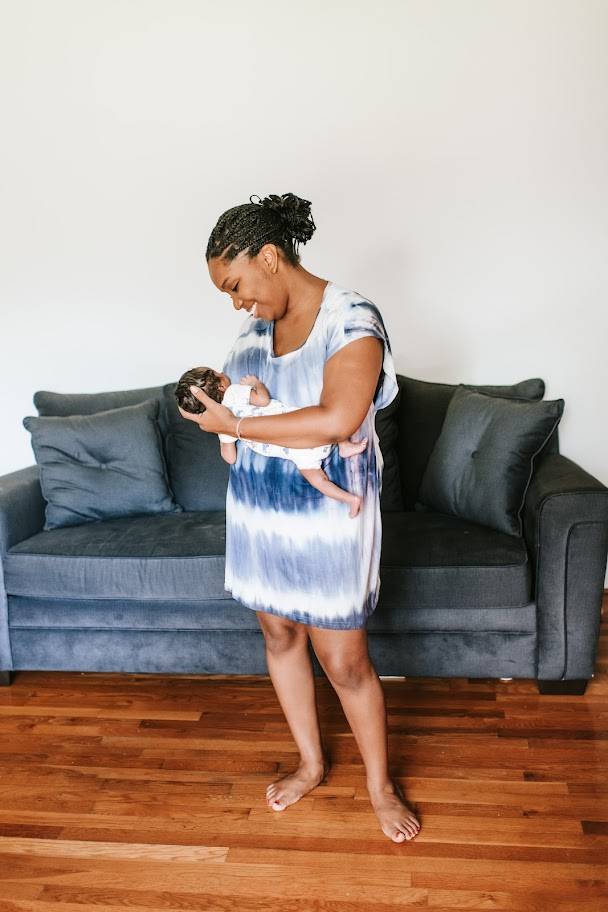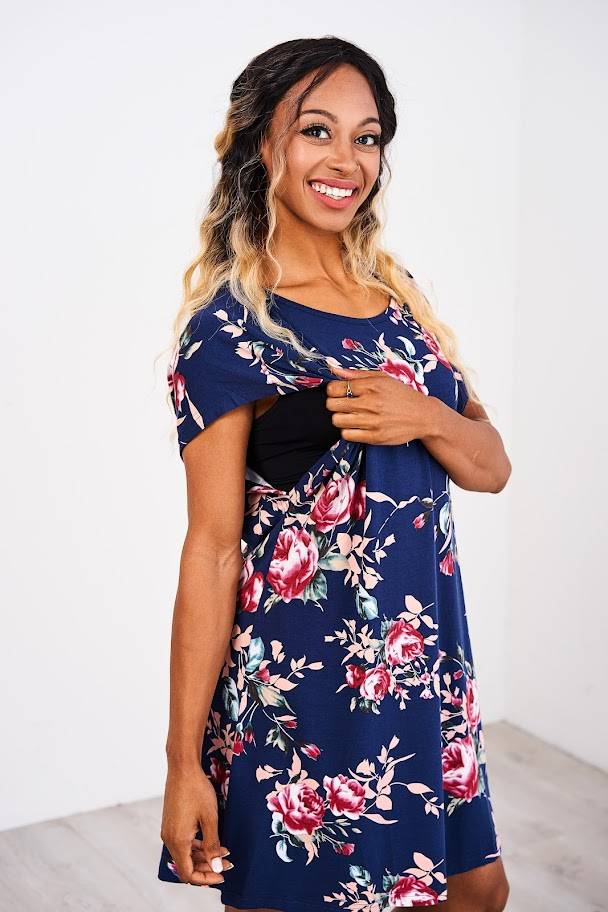 Blissful Lounge Nursing Dress
Sometimes having a big family means that mama is last in line to get ready for the day. That's why we LOVE our Blissful Lounge Nursing Dress. Perfect for those busy mornings full of go, go, go, this breathable sleepshirt also doubles as a stylish lounge dress, making it the ideal style for the mama who can't seem to get a minute to herself. Finally time for some self-care? It's still the perfect thing to wear! Our versatile, bump, and breastfeeding-friendly take on the classic sleep dress was designed for day-to-night wear and is sure to become embedded with countless memories.
Holiday shopping got you stumped? Then turn your stupor into her splendor with a Latched Mama Gift Card! Sometimes it's hard to know what exactly a new mom needs, so take the guesswork out of shopping this season by giving her the gift of options! Not even the North Pole can predict the beautiful changes that pregnancy and postpartum will bestow upon her.
Latched Mama Easy Gift Ideas