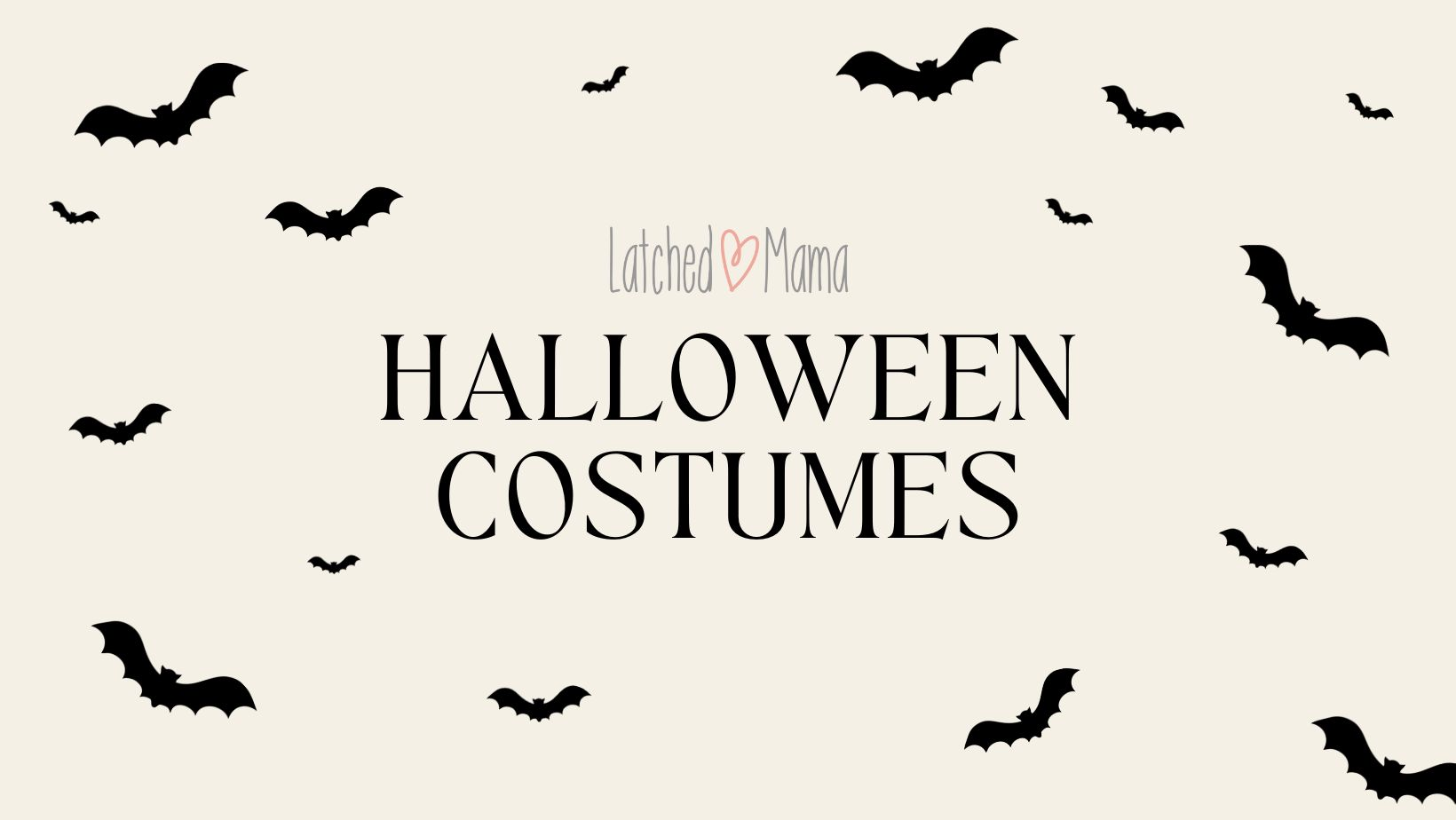 Latched Mama Halloween Costumes!
Looking for a nursing-friendly Halloween costume that you can wear all year long?
We know that getting spooky with your little boos is an absolute blast, but finding the perfect costume as a breastfeeding mama can be stressful. Ensuring that you're able to nurse in between tricks and treats is a must, not to mention the anxiety that comes with spending money on something you may only wear once or twice. Talk about SCARY!
If your idea of a Happy Halloween includes being able to repurpose something you already own OR investing in something that you'll reach for again and again, then you're in for a TREAT!
That's because we have TEN adorable MATCHING mommy-and-me costume ideas that you can easily recreate at home with timeless maternity and breastfeeding-friendly pieces you'll cherish long after witching hour is over!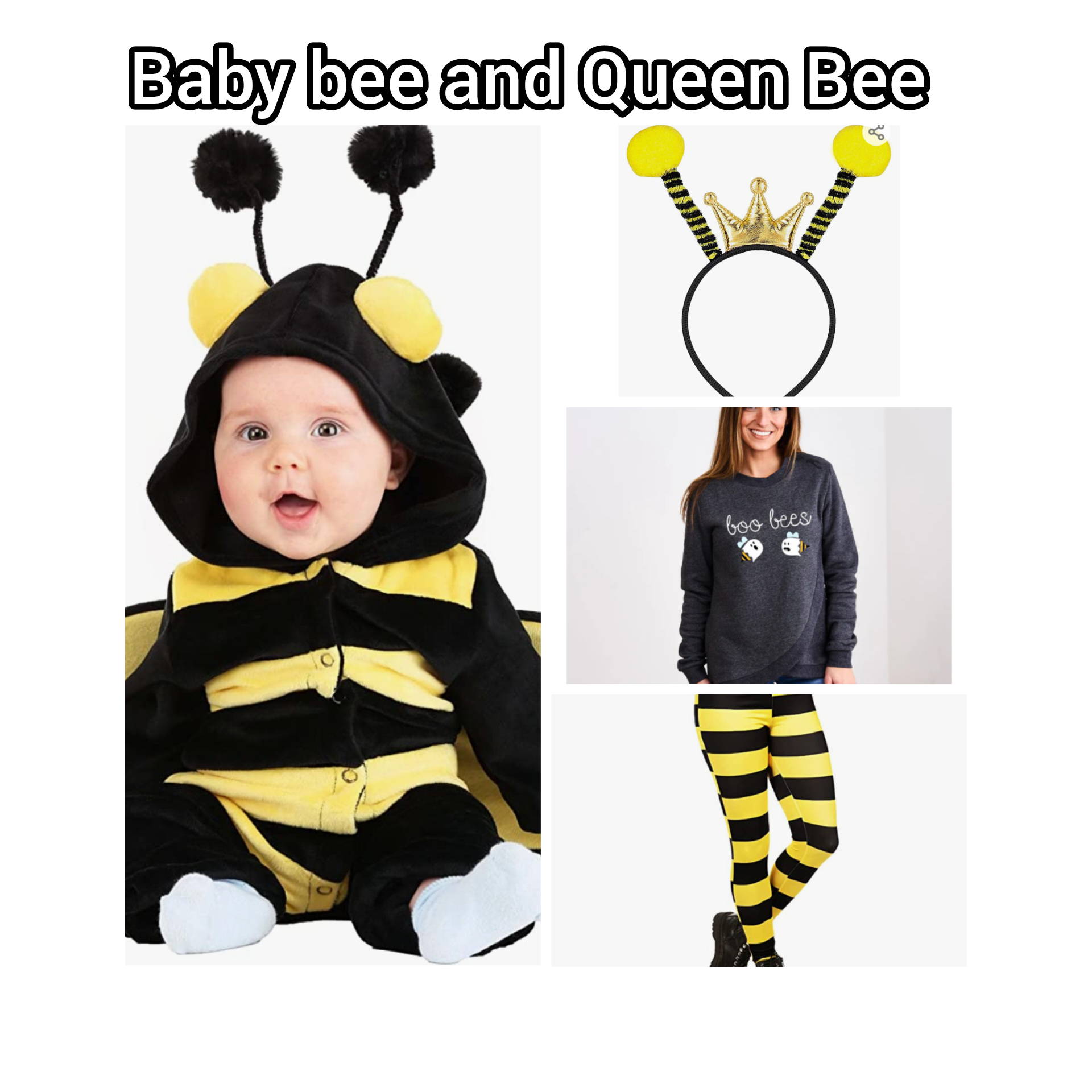 Looking for the perfect costume for you and your hive this Halloween? Then check out this buzzworthy costume idea! All you need is our Glow BooBees Petal Nursing Crewneck to keep your nectar easily accessible, then add on some black and yellow striped leggings and a queen-worthy headband. Next, snag your baby a bumble bee costume at the costume shop, and you'll be ready to pollinate the night away!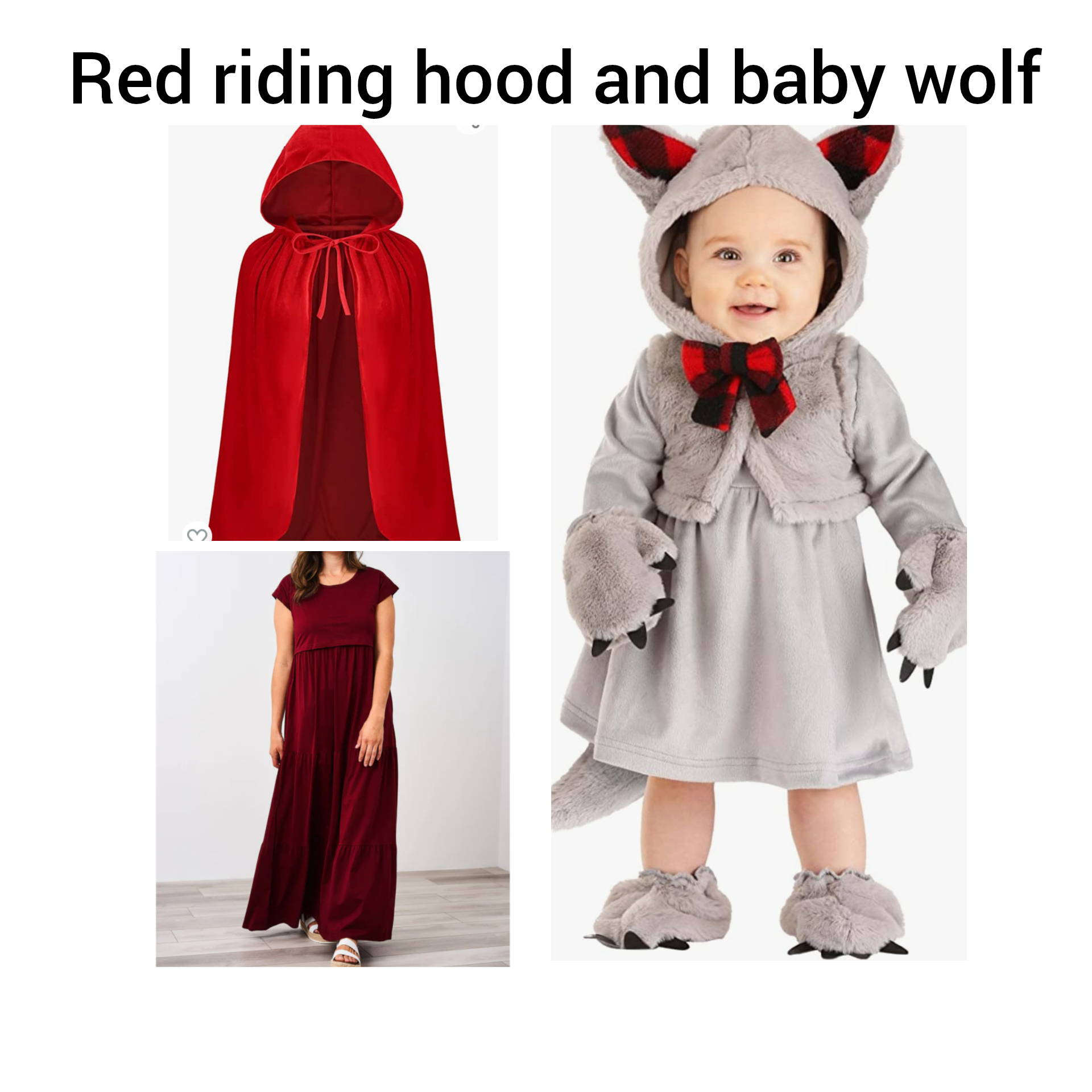 Maybe the big bad wolf isn't so big after all? Get ready to go skipping through the woods on an enchanted adventure in this adorable matching costume idea! Simply pair our captivating Cotton Tiered T-Shirt Maxi Dress in Very Berry with a red cape to embody Little Red's innocent charm, and dress your baby in a wolf costume to tie the look together- but watch out! We hear baby wolves tend to be VERY hungry!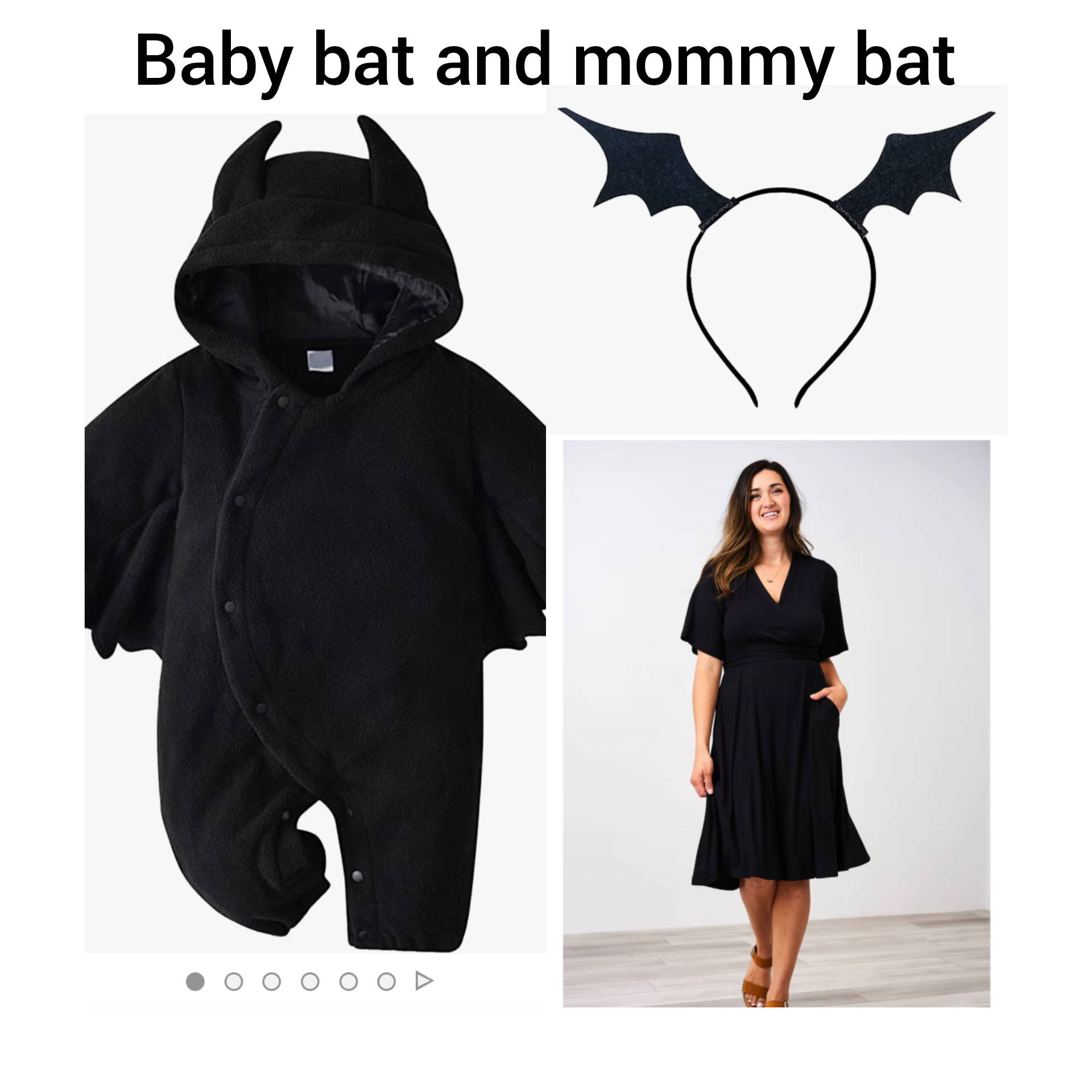 You don't need a batmobile to pull off this fang-tastic costume idea! All you need is a little black dress, such as our Midi Nursing Wrap Dress, and a batty headband to pull off this nocturnal ensemble! Next, grab a bat costume for your little bloodsucker, and you'll be ready to hang- upside down, that is, all Halloween night!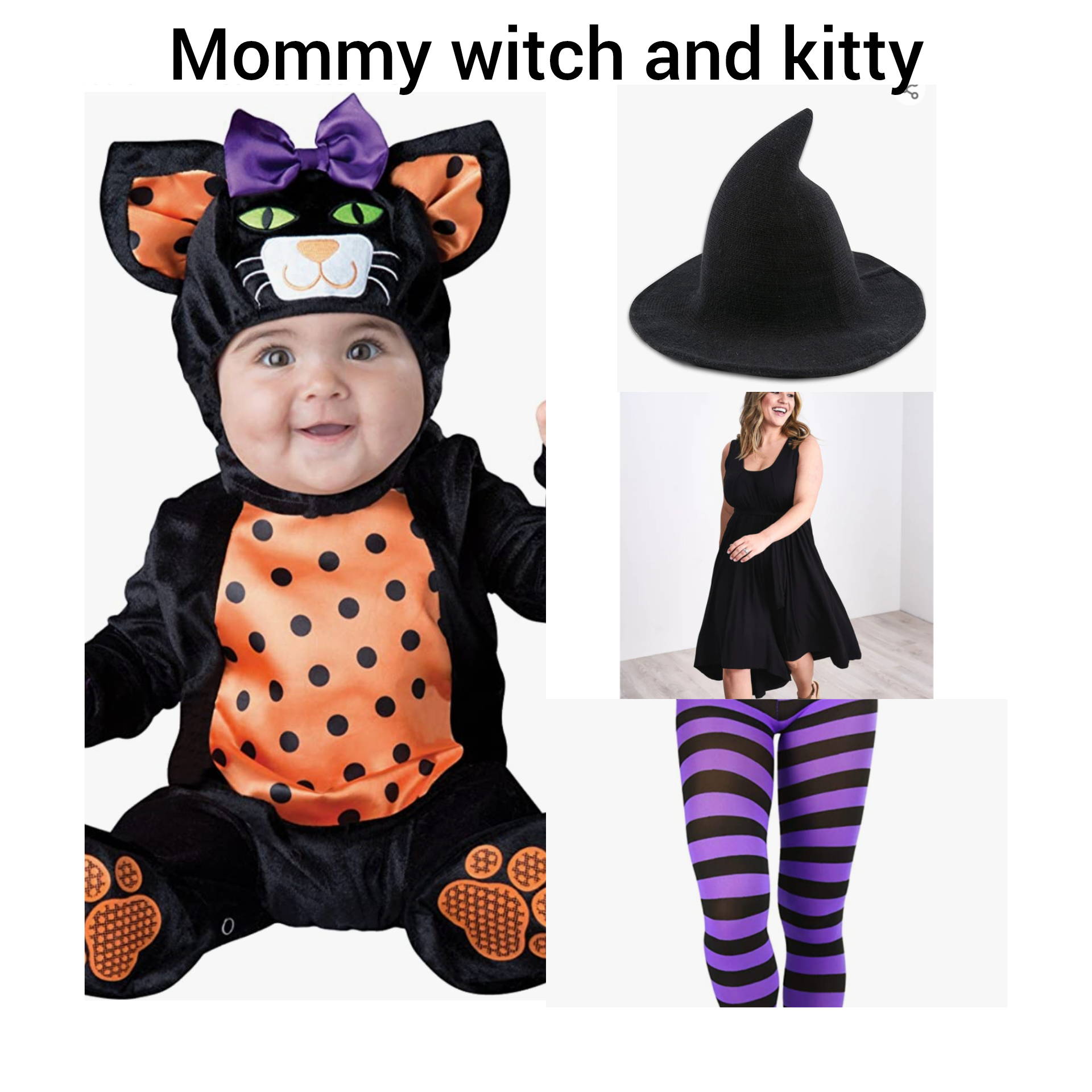 Black cats and wicked witches are a match made in hallow-heaven, so it's no surprise to see this classic costume matchup on the list! All you have to do is snag yourself a Black Dress OR if you prefer something a little more broom-riding friendly, perhaps give our Nursing Romper in Black a spin! Then, top off your look with a witches hat and striped tights and dress your little cutie in a cat costume, and you'll be sure to put a spell on everyone who crosses your paths!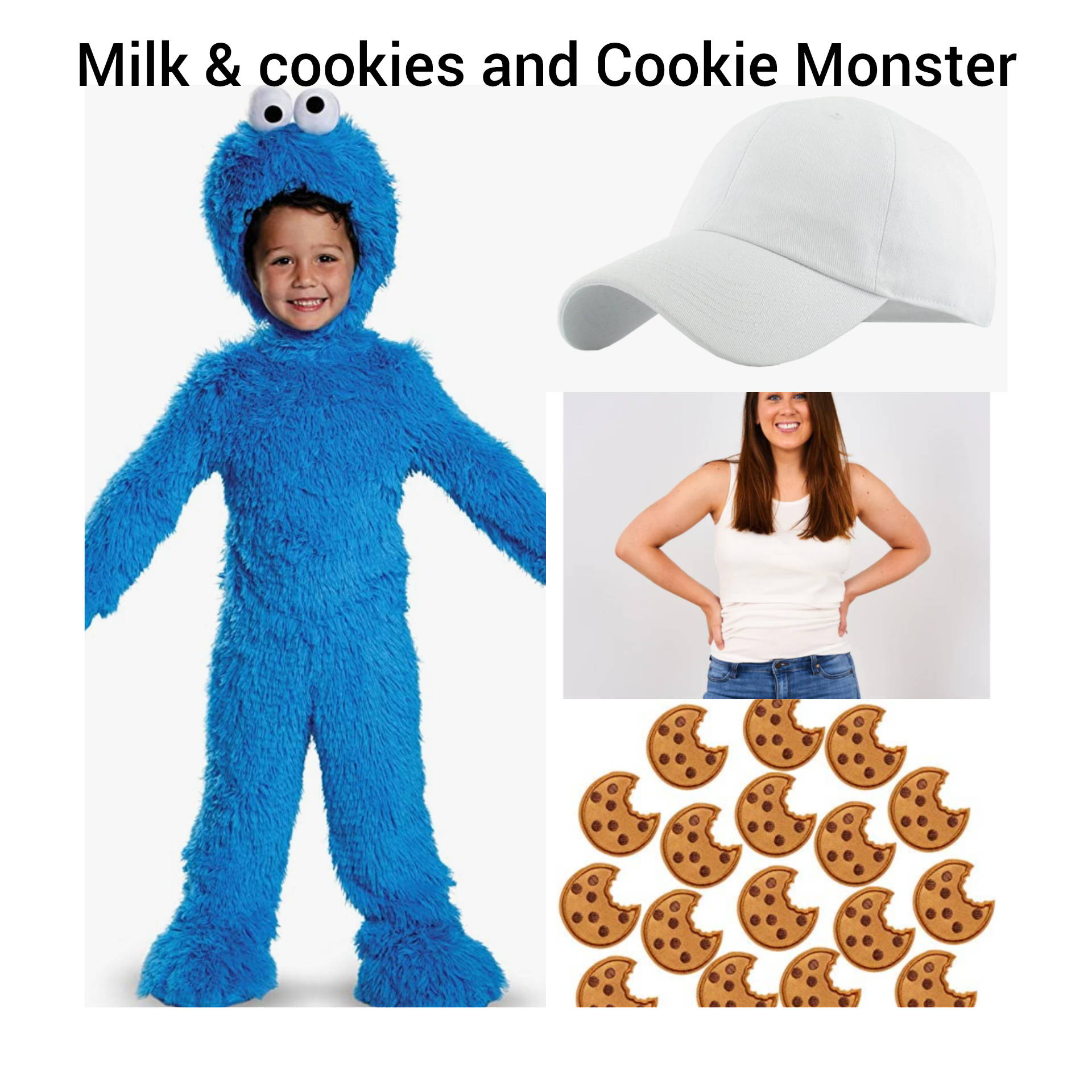 You already know your baby is a milk monster- so why not embrace their appetite for all things mommy by transforming them into the Cookie Monster! To recreate this costume, all you need is a white tee or tank such as our Ribbed Nursing Tank in White, a white baseball hat or beanie, and pin on some print-out cookies. Then, dress your baby as the Cookie Monster, and watch your little one go WILD!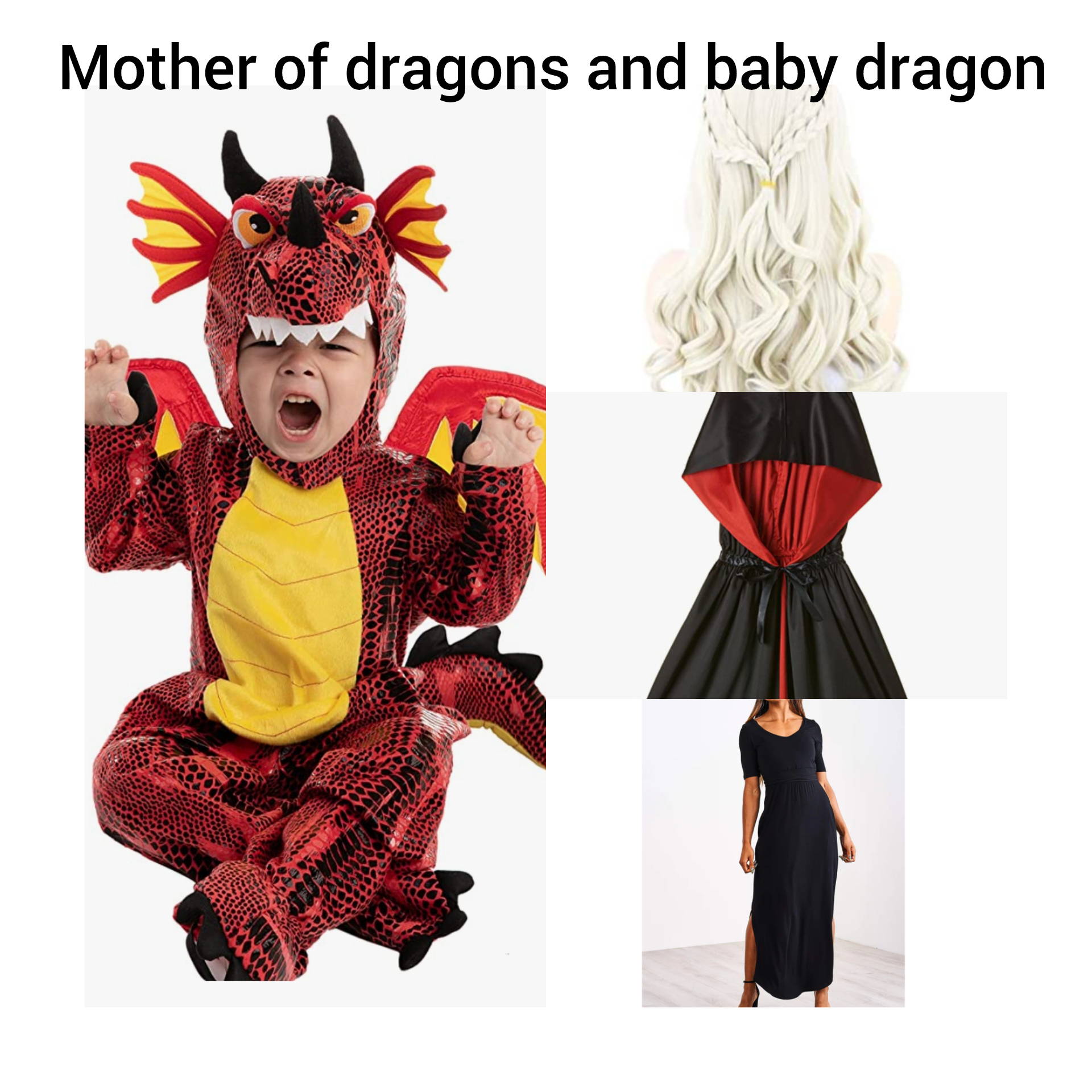 Embrace YOUR house of dragons with this mythological meets pop culture-inspired costume idea! To create this look, grab a floor-length black dress, such as our stunning Starlet Nursing Maxi in Black, a long icy blonde wig, and a black and red cape. Then, dress your baby as a dragon, and let the people of Halloween know- winter is coming!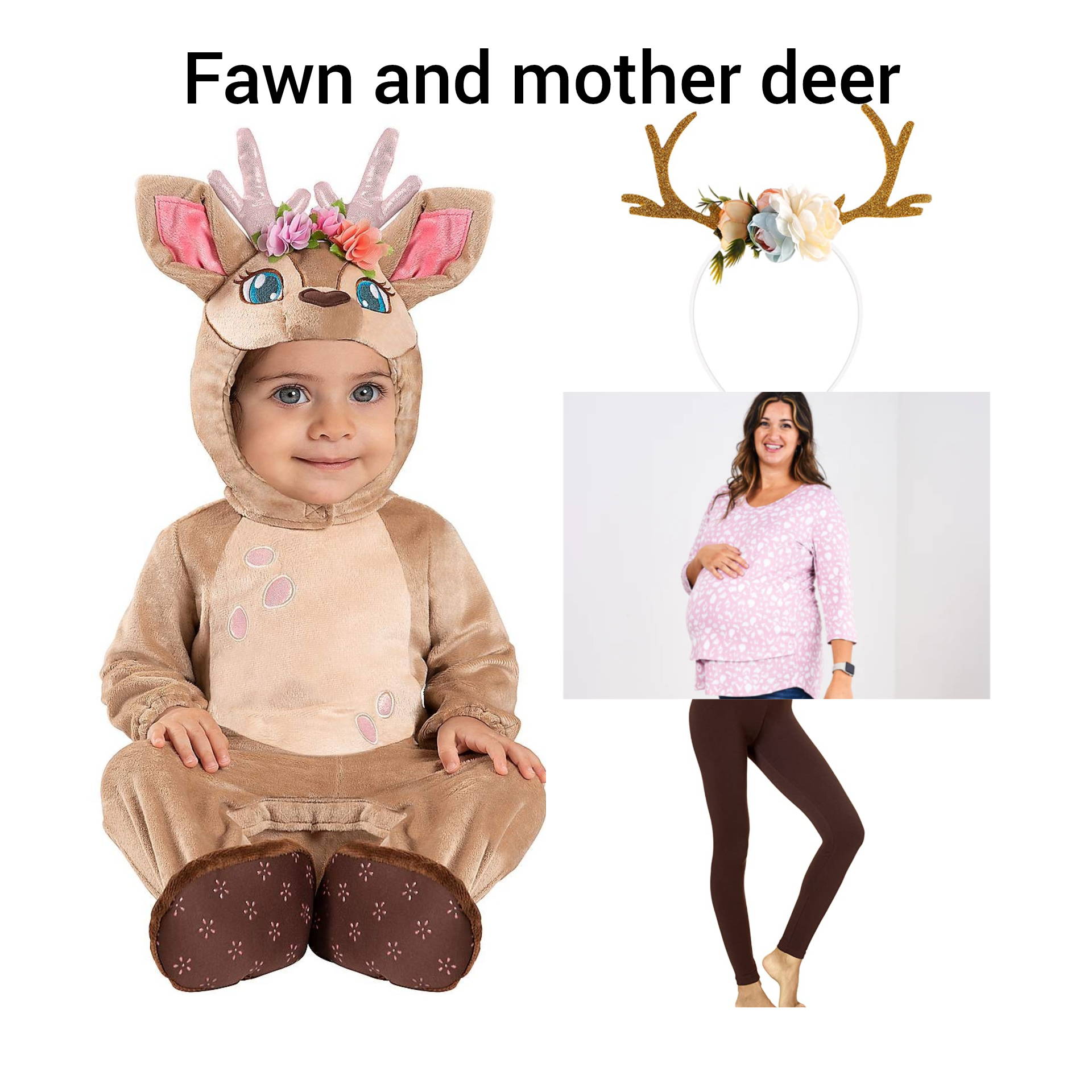 Oh, deer! If you need an easy last-minute costume idea, have no fear, because this matching ensemble will have the whole herd fawning in love! To recreate this look, snag yourself our 3/4 Sleeve Scoop Neck Printed Nursing Top in Wild Pink and pair it with a flowery antler headband. Then, dress your little doe in a fawn costume, and you'll be looking like a million bucks in no time!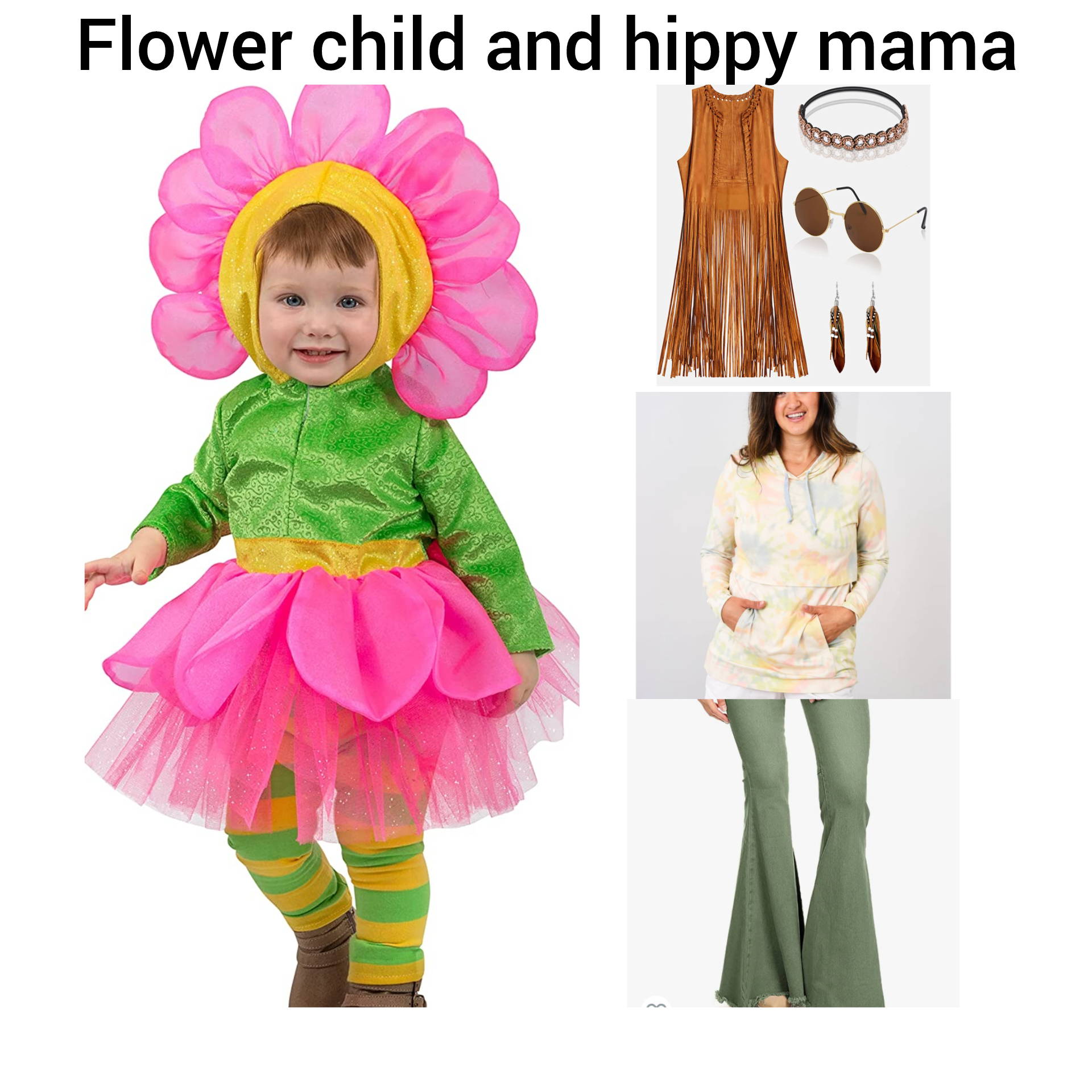 If you're feeling groovy, baby, we've got the perfect costume for you and your little wild child! To create this Woodstock-ready costume, all you need is a tie-dye tee or hoodie, such as our Lightweight Cotton Nursing Hoodie in Sunrise, some trippy hippy accessories and bell bottoms, and a flower costume for your bodacious babe. It's the perfect way to put a psychedelic spin on your Halloween!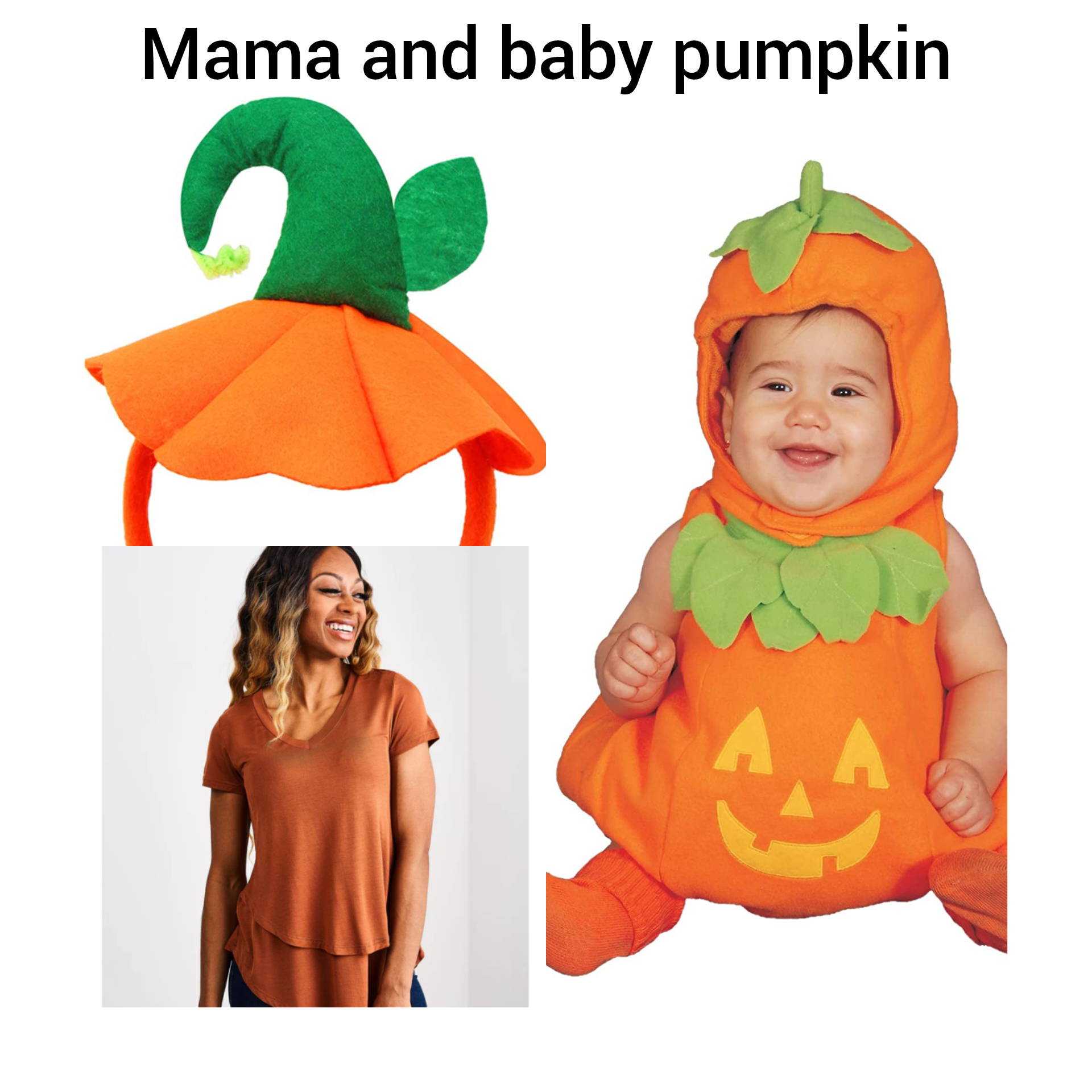 Let your little gourd be the star of the show with our Mama and Baby Pumpkin costume pairing! Perfect for the minimalist mama, all you need to create this look is an orange tee, such as our Boyfriend Nursing Tee in Copper, and a pumpkin costume to ensure your baby is looking sweet as pie! Want extra credit? Treat yourself to a pumpkin spice latte to help complete the look- you deserve it!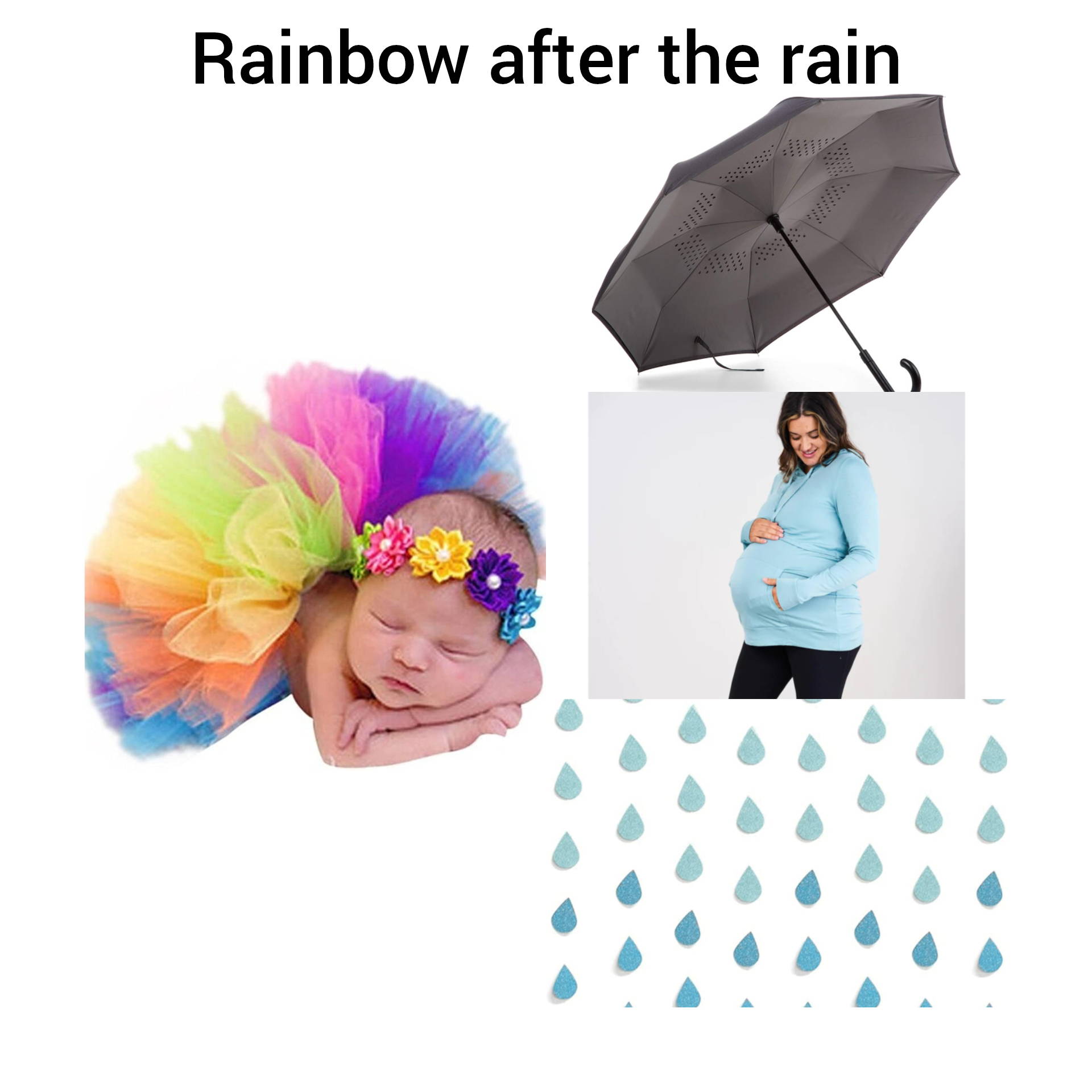 Brighten the night with our magical Rainbow after the Rain costume idea! Perfect for celebrating your rainbow baby or simply adding a splash of color to your Halloween festivities, this mommy and me costume idea is equal parts enchanting and adorable! To recreate this look, all you need is a blue hoodie, such as our Cloud Nursing Hoodie in Sky, an umbrella, and a rainbow tutu for your little ray of sunshine. Want to get your partner involved in the matching action? We hear there's a pot of gold at the end of every rainbow!
We can't WAIT to see how YOU will spookify your favorite Latched Mama pieces this Halloween!
No matter the season, our mom-designed clothing is the perfect treat to help make your nursing journey feel like a celebration all 365 days of the year!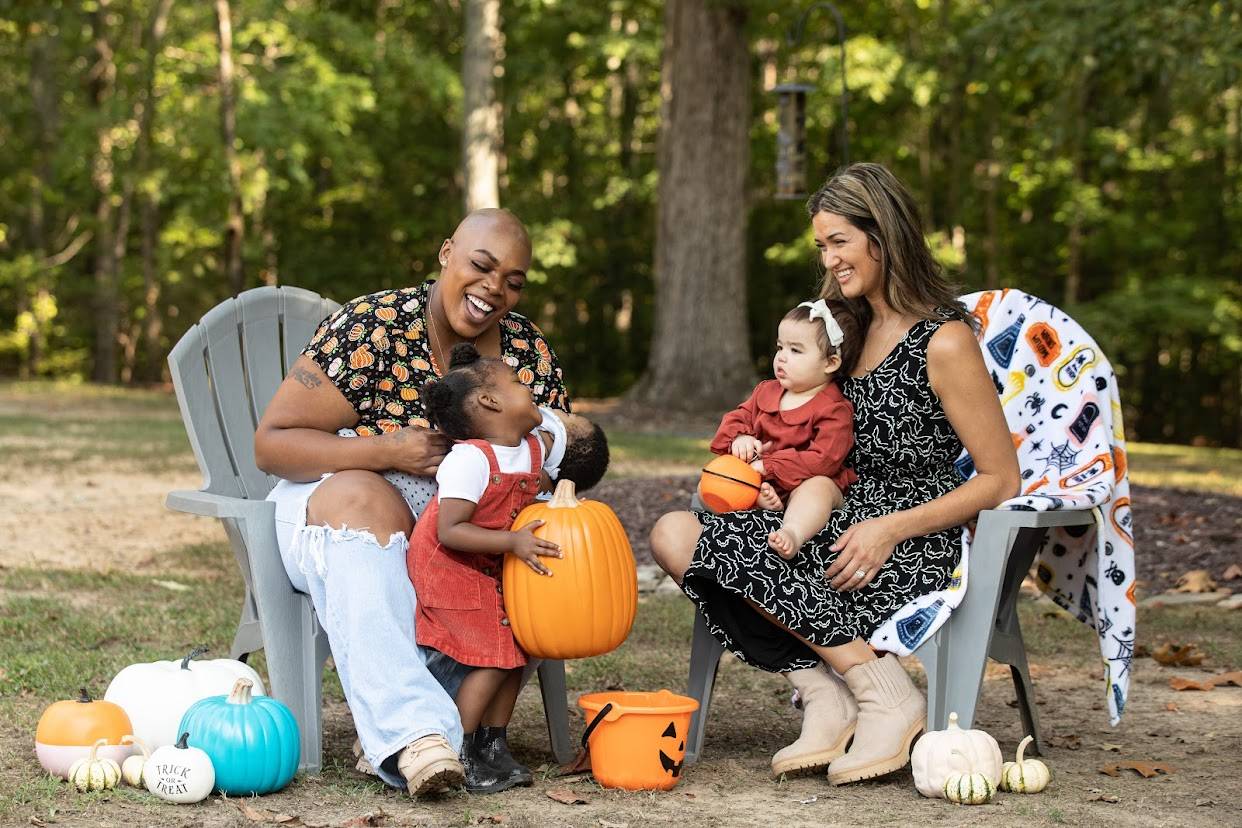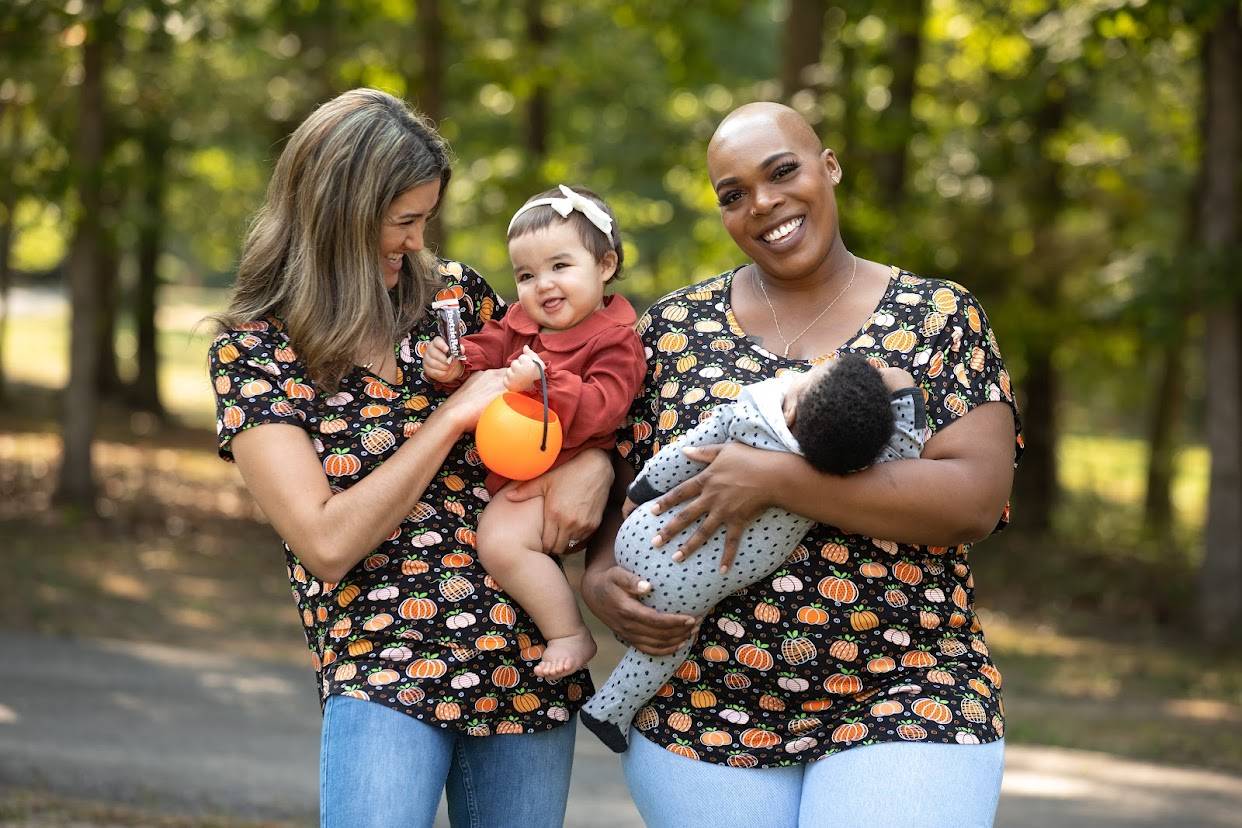 SHIPS FAST & WITH LOVE FROM RICHMOND, VIRGINIA!

We offer free shipping on domestic U.S. orders over $100!
1-ON-1 CLC BREASTFEEDING SUPPORT

Contact us at support@latchedmama.com, (844)-500-1325. or any social media channel for breastfeeding support, sizing help, and style advice!
Items that are in like-new, unwashed condition can be returned within 30 days for a refund. We also offer style exchanges and store credit! See our Returns FAQ here!